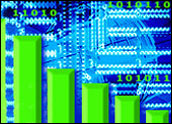 U.S. video games sales were down slightly in September, according to data from research firm NPD Group. Sales of hardware, software and accessories dropped 7 percent from the year-ago period to US$1.27 billion.
"This is the first true monthly decline the industry has experienced since March of 2006," said Anita Frazier, an NPD analyst. "It's important to keep in mind, however, that this month's 7 percent decline is against a month (September 2007) that itself was up 75 percent from the prior September."
Hardware sales dropped 9 percent year-over-year to $497.98 million. Title sales dropped from $656.53 million to $616.09 million. Accessory sales also slowed, dropping nearly $5 million to $152.59 million, a 3 percent decline.
Despite the dip, Frazier expects 2008 to be a record-breaking year for the console gaming industry.
"Overall, the health of the video games industry remains quite strong, despite the rocky economic conditions. Tracking against typical industry seasonality, the U.S. video games industry is positioned to realize $22 billion or more in revenues for the year," she said.
The Halo Effect
One factor playing into the comparatively lower sales for September 2008 was last year's release of "Halo 3" for the Xbox 360. The title broke all previous sales records, moving 3.3 million units in its first few weeks. It's also credited with helping Microsoft sell more than 500,000 Xbox 360 consoles. In total, the much-anticipated title accounted for $226 million in sales last year.
The "Halo 3" launch accounted for a full 35 percent of software sales in 2007, according to Frazier.
"'Halo 3' skewed last September's results. Taking out the 'Halo' effect, sales would have grown," Michael Cai, a Parks Associates analyst, told the E-Commerce Times.
Excluding "Halo," "software sales were up 43 percent," noted Michael Pachter, a Wedbush Morgan analyst.
Gaming Economics
The Nintendo Wii continued to outsell its competitors, outrunning them by a margin of nearly two to one in September. Consumers picked up 687,000 Wiis. The Microsoft Xbox 360 came in second with 347,000 consoles sold; Sony's PlayStation 3 placed third, with gamers purchasing 232,400 units. Sales for the PlayStation 2 remained solid with 173,500.
"One thing that stood out is that a price cut helped Xbox 360 to regain some lost momentum. What the retail numbers don't show is how much Microsoft is making through Xbox Live online services," Cai said.
Nintendo led in portable game sales as well, moving 536,800 Nintendo DS consoles, while Sony's PlayStation Portable sold 238,100 units.
In software sales, "Star Wars: The Force Unleashed" for the Xbox 360 was the No. 1 seller. Released in mid-September, the title sold 610,000 units. "Wii Fit" came in second.
The PS3 and the PS2 each claimed just one title in the Top 10: "Star Wars: The Force Unleashed" for the PS3 took the No. 5 spot, while "Madden NFL '09" for the PS2 came in 10th.
Two PC games performed notably. Although PC game sales do not factor into NPD's console game sales figures, there were two that warranted mention: "Spore" realized sales of 406,000 units, and "Warhammer Online: Age of Reckoning" sold 274,000, which would put them both in the top 10 list of combined console, portable and PC games sales for the month, Frazier said.
Weathering the Economic Downturn
Digital service and content revenue will grow significantly for all three consoles, according to Cai.
Digital sales could also help console makers weather the current economic crisis, even though the video game industry may experience relatively little economic impact from the current global economic crisis.
"In terms of the economy, I believe the gaming industry will feel less impact compared to other consumer industries," Cai predicted. "Consumers still need to be entertained, and if they decide to cut down on travel, that means more gaming hours at home. Nevertheless, expect to see more bundles with free games from console makers. Gamers may also change their purchase behavior a little bit. There'll be more bargain hunting this holiday season."
Meanwhile, sales in October will be up, Wedbush Morgan's Pachter expects, but the increase will be less than 20 percent."That should demonstrate that video games weather a downturn well," he told the E-Commerce Times.
"I do believe we market analysts need to keep at the forefront of our minds this economic slump," said InStat analyst Stephanie Ethier, "and how a number of factors will contribute to a slowdown in sales for a number of consumer electronic product segments that are typically hot sellers at the imperative holiday season — imperative to consumer electronic suppliers and manufacturers alike.
"As a result," Ethier told the E-Commerce Times, "I've personally adjusted my forecasts down for 2008 and 2009 to reflect the impact of negative economic factors such as the worsening credit crisis, consumers' ongoing fear of inflation, and a dismal housing market."