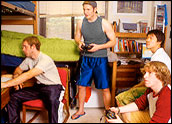 Game publishers have been inserting advertisements into video games almost since games were first developed. But what began as static in-game product placements such as billboards advertising a publisher's upcoming title in the 1970s has become a much more sophisticated marketing tactic — and a potentially lucrative revenue stream.
"The medium's been growing for about six years now, and both Microsoft and Google have bought companies in this space — Massive and Adscape, respectively," Andrew Frank, a Gartner Research analyst, told the E-Commerce Times.
Microsoft's reported US$400 million purchase in 2006 of Massive, a creator of a video game advertising network, indicates the company's confidence that the growing sector will prove profitable. The Redmond-based software Goliath and game publisher said the acquisition would help in the delivery of dynamic and relevant ads across its online services — in particular on Xbox Live and MSN Games.
Google bought into the in-game ad market in 2007, when it reportedly paid $23 million for Adscape, a small San Francisco-based advertising company. Adscape specializes in creating advertising with plot and storyline integration.
In July, Sony announced a partnership with in-game ad firm Double Fusion to bring adverts into games for the PlayStation 3 platform.
Growing and Growing
In 2005, a year before the Massive purchase, in-game advertising spending totaled some $56 million, up from $34 million the previous year, according to Michael Goodman, a Yankee Group analyst. It grew by another $21 million in 2006.
Goodman's company expects the in-game ad business to generate $971.3 million in revenues by 2011. Massive, however, sets its sights even higher, foreseeing the market to hit $1.8 billion by 2010. Growing revenues correlate with a growing audience, especially for online games in which advertisements can be dynamically repositioned and changed out, providing a continuous sales stream. According to DFC Intelligence, there are 77 million online gamers in the U.S. and Canada. The firm expects that number to increase to 117 million by 2011.
Because it's tightly integrated into the game itself, an in-game ad commands greater attention than, for example, the advertisements littering the screen around casual Web-based games, which players often ignore.
"Video games can be a very effective and immersive way to reach a hard-to-reach niche — males 14 to 35. Hardcore gamers are often low consumers of other media, spending nearly all of their leisure time on their passion. Also, some gamers feel that real ads in a game make it seem more realistic," Frank said.
For game publishers, in-game ads can offset the high cost associated with game development, said Ron Schaffner, director of new business development for Sony Computer Entertainment America. In addition, ads in online games provide a stream of revenue rather than a one-time sale.
"For years, promotional placements and branding in games were commonplace. Now, with dynamic in-game advertising, there are opportunities to position a wider range of ad messages to gamers. Advertisers can also alter messages regularly in a way that's relevant to the gaming community and gaming culture," he told the E-Commerce Times.
Keeping the Gravy Train Rolling
Greater realism in games is all well and good, but could game publishers be going back to the trough too many times? Consider that until recently, both the Xbox 360 and PlayStation 3 (PS3) video game consoles cost at least $300 to own. Hardcore gamers in the target demographic often bought systems priced at $400 or more. Then there are the games, which often cost at leat $50 and sometimes command $80 price tags. If advertising offsets development costs, do consumers benefit from reduced prices?
"There is a sense among consumers that if you're going to deliver the advert, then you should drop the price," noted Paul Jackson, a Forrester Research analyst.
It's different from the philosophy associated with broadcast advertising. In that medium, consumers who want to view first-run movies and shows without ads can do so by opting for movie theaters, pay TV, an online purchases, he told the E-Commerce Times.
Casual online games, on the other hand, have worked out a different sort of balance. The genre appeals to players who may just want to play a simple game for a few minutes rather than tackle a difficult, complex game with a thick storyline. These gamers are often attracted by the ability to play the games for free in return for viewing a few ads, Jackson continued.
"Console games have yet to find a happy balance because they say if you're going to make money from advertising, I want the console to be cheaper, or don't make the advertising so blatant that it interrupts my gaming experience and gets to be like broadcast TV," he said.
Gamers are divided into two camps on this issue, according to Frank.
"As [I] mentioned, some believe it adds realism, others think it's a distraction. Naturally it's possible to spoil any experience with too-intrusive advertising, but I think passive formats such as billboards or stadium signs are generally not considered too objectionable," he explained.
When the ads are "done the right way," they can bring value to the gamer as well as give advertisers a compelling forum within which to market, noted Jay Sampson, senior director of emerging media for Microsoft Advertising.
"For game publishers, ads in games is a great financial opportunity. Let me explain further — Massive's dynamic network is unique in that it is carefully and artfully incorporated into video game content by both Massive and the game developer. In that respect, Massive's advertising adds to the game player's experience — it adds value and realism to the game play environment by serving ads that are both appropriate and timely," he told the E-Commerce Times.
Users play video games to immerse themselves in virtual, real-life experiences. What they expect to see in terms of advertising in real life, they see in contemporary or urban video game titles in the Massive network. This includes real-life ad types and environments — billboards, posters, vending machines, ads on televisions, storefronts, logos on apparel, etc. — as well as up-to-the-minute ad campaigns, Sampson continued.
Treading Carefully
Game publishers and designers, therefore, must achieve a delicate balance when inserting advertising into a game. Ads that may be entirely appropriate for a modern-day racing game, for example, might not be suitable for a futuristic first-person shooter or a game based in medieval times.
"Not all games will support in-game ads. If a game does not contextually lend itself to ads, a publisher and their developer would choose not to place ads in the game," Sony's Schaffner said.
To ensure that its ads do not take a gamer out of the game, the PS3 maker has a team dedicated to reviewing proposed in-game ads — static and dynamic — to determine their relevance to the game itself, he explained.
"We are also interested in ad campaigns that actually enhance the gaming experience, perhaps through a tighter integration of dynamic in-game placements and bonus content sponsored by the advertiser," he added.
Microsoft has a similar ethos, and gamers will not see ads in "inappropriate environments or video game genres such as fantasy titles or non-urban settings," said Sampson. On the other hand, in some instances, in-game ads are a must-have.
"Imagine, for a moment, developing a counter-terrorism game set in New York's Times Square. Imagine stalking terrorists in a Times Square with no ads of any sort — not very realistic. Imagine a Times Square with generic ads — better, but still not as realistic. Now imagine Times Square with ads you just saw on television or read in a newspaper — the latest movie release or television show or a new car model. Imagine further that it is up-to-the-minute, whether you played your game today or six months from now. That is much more realistic," he explained.
Everyone's a Winner — Sort Of
In the long run, as video game networks such as Xbox Live and the PS3 Network become more sophisticated, publishers may do well to provide gamers with an opt-out option for in-game ads.
"The key thing for marketers is that they can accurately track who has seen it because the online consoles are pretty much a closed system," Forrester's Jackson said. "Microsoft knows who you are, where you live, what games you play and they also know what you're doing in the game."
For example, technology enables the software maker to know whether a gamer paused in front of a billboard for 5 or 10 seconds and then walked off — and at what time the gamer did that.
"They can target [an ad] so it appears between 7 p.m. and 9 p.m. on the West Coast," he pointed out.
Privacy proponents may find that action intrusive. It's similar to the data collected by an online ad provider like Google, which has also come under fire for storing a great deal of information on the behavior of its users in the quest to provide more accurately targeted ad material.
"As these things become more widespread, you're going to have the same kind of opt-in measures that you do for normal advertising and e-mail campaigns," said Jackson. "If you opt out, you may lose a bit of the gaming experience if that bit is being sponsored by the brand concerned. But you'll be able to opt out and prevent Microsoft from passing your aggregated gaming details to McDonald's, Burger King or Toyota," he posited.
Software companies make roughly 10 cents every time a buyer picks up a title that features ads. Multiply that by, say, 10 million units, and making an extra dime on each scales up nicely to a tidy profit.
"It's really tiny revenue compared to retail and add-on accessory sales," Jackson noted. "That's because at the moment, not all people are online with their games, and not all games are enabled for in-game advertising. It's a limited number of games and a limited number of advertisers.
"If there are modes of the game facilitated by the brand so that the gamer is getting something for free or at a reduced cost, that would be the best model, rather than just sort of sliding in money you're making as publisher almost without the gamers' knowledge or consent," he said.