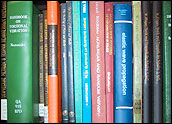 Google has proposed modifying its proposed digital books deal with publishers and authors in an effort to tamp down growing opposition to the project. The changes would limit the number of out-of-print books it places online.
Industry groups were given a venue to complain about the proposed agreement at a hearing sponsored by the European Commission on Monday. Critics of the agreement — which still must be approved by a U.S. District Court judge — worry about creating an even more monopolistic Google.
Google Books is an ambitious undertaking to digitize millions of books, ranging from works that are still under copyright and in circulation to many that are out of copyright or out of print.
About three years ago, the Association of American Publishers (AAP) and the Authors Guild filed a class action lawsuit to stop Google's book-scanning project and get compensation for copyright holders.
Settlement May Not Fly
Under the terms of an agreement negotiated with the two groups last year, Google promised to establish a database that would let authors register their works, approve their licensing through Google, and collect royalties.
Storm clouds have been gathering over the proposal, however, largely because the AAP and the Authors Guild do not represent all rights holders who might be affected by Google's project.
Also, there are anticompetitive and privacy issues at stake, according to the Department of Justice, which launched an inquiry into the agreement at the beginning of the year.
More recently, a troika of Web giants — Microsoft, Amazon and Yahoo — came out against the agreement, throwing their considerable weight behind the Open Book Alliance.
The OBA filed an amicus curiae brief in opposition to the proposed settlement last week.
The Justice Department will reveal on Sept. 18 whether it believes the deal would violate U.S. antitrust laws.
Europe Steps In
Google has been targeted by similar protests from the European Commission — a staunch defender of privacy rights and marketplace competition.
Google reportedly has addressed protests lodged by the Initiative for a Competitive Online Marketplace by promising to limit the out-of-print books it will make available, according to news accounts.
Google did not return the E-Commerce Times' call requesting comment in time for publication.
Google will likely receive a head start in the digital book space if this agreement goes through as negotiated, Ryan Radia, an analyst with the Competitive Enterprise Institute, told the E-Commerce Times. "However the fact remains that it hasn't sold a single book under the project, whereas Amazon's Kindle has sold millions by now."
There are privacy concerns — such as gaining access to a person's reading choices — and possibly law enforcement issues as well, Radia noted.
Giving Google the rights to a huge number of out-of-print books is another area of contention under established law, he said.
Google would, for a time, be the only entity holding those rights, Radia pointed out.
However, it is the system that extends copyrights for so long that is ultimately at fault, he maintained.
"It can be difficult to find rights holders for a lot of works that may have been published decades ago," said Radia. "If copyright terms weren't so long, we wouldn't have such a big problem right now with the huge number of orphan works," he said, which he placed in the millions.