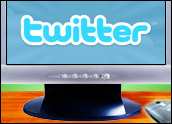 Nielsen on Monday rolled out Nielsen Twitter TV Ratings, a service it says is the first-ever measure of the total activity and reach of TV-related conversation on Twitter.
Nielsen Twitter TV Ratings measure not only "authors" — or the number of people tweeting about TV programs — but also the much larger audience of people who actually view those tweets. The data gives TV networks, advertisers and agencies a better idea about the reach of the TV-focused tweets on the social network.
"The Nielsen Twitter TV Ratings are a powerful measurement with far-reaching implications for the industry," said Steve Hasker, president of global product leadership for Nielsen. "It's exciting that investments are being made to build 360-degree engagement — and drive passion from viewers — around programming. This holistic measure of how Twitter activity influences TV engagement will bring clarity to the value of those efforts."
50 Times Bigger
The number of people who watch TV while tweeting is growing, Nielsen said. In the second quarter of this year, for example, 19 million unique U.S. users produced 263 million tweets about live TV, representing a 38 percent increase in tweet volume compared to the same time a year ago.
The Twitter TV audience for an episode, moreover, is on average 50 times larger than the number of authors who are generating tweets, the company said.
Information about the tweets will help advertisers and content providers drive engagement across the social media platform with their fans, it added.
Nielsen did not respond to our request to comment for this story.
Generating Revenue
Nielsen is not the only company to track social media chatter about TV shows. Facebook recently announced an initiative to provide several major TV broadcasters with free information about how many likes, comments or shares the posts about TV shows, sporting events or other live TV broadcasts receive. The company will also inform the broadcasters about the number of users doing the liking or sharing.
Twitter also recognizes the potential value of that information for the companies that generate the majority of its revenue: advertisers.
In a digital media landscape where marketing professionals are experimenting with display or video ads, product placement or content sponsorships that can be targeted for social media audiences, making such data available could be huge for its bottom line, said Brian Wieser, an analyst at Pivotal Research Group.
The company pointed to such possibilities extensively in its recent S-1 filing for its initial public offering.
"Twitter is quickly establishing itself as a dominant player in mobile advertising," Wieser told the E-Commerce Times. "It will be better positioned to chase marketshare in the more broadly defined arena of digital advertising alongside Facebook and Google in years ahead, all of whom will gain at the expense of other incumbents in the sector."
'Incredibly Valuable Information'
It's still unclear exactly how advertisers will take advantage of the data that Nielsen is providing, said Alfred Poor, senior technologist at ANewDomain.net, but that's not necessarily for Nielsen — or Twitter, or Facebook or any other social media company — to figure out.
Going forward, content providers or advertisers might have to pay a hefty fee to access this kind of information, said Poor, but right now it's up to them to figure out the most advantageous ways to use it.
"Second-screen viewing is less about adding to the viewing experience or content of a show and more about using social media as a way of conversing about the content, the experience of being part of a conversation and engaging with friends," Poor told the E-Commerce Times.
"From those interactions, content providers, sponsors and advertisers are able to genetically engineer shows and ads for viewers, and that is better for the bottom line of everyone involved in the industry," he concluded. "This is incredibly valuable information."