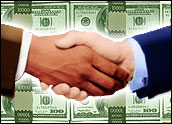 The Nielsen Co., based in New York and the Netherlands, has signed a definitive agreement to purchase privately held New York-based IAG Research for US$225 million.
IAG measures consumer engagement with advertisements and product placements across television and online. The company counts some of the largest firms across the business world among its clients. Among them are automobile manufacturers, advertising agencies, Internet companies, telecommunications service providers, TV networks, movie studios and other content-driven firms.
IAG Leaders
IAG founders and Co-CEOs Ken Orkin and Alan Gould will join the Nielsen team. IAG shareholders will be paid an undisclosed sum under terms of the deal, which Nielsen expects to close in the second quarter.
"The details remain to be fleshed out, but the general idea is that Nielsen is [a] leader in quantitative research — who's watching what and when — and is numbers-oriented, and IAG has a lot of expertise in the area of engagement and why people are watching and what they think about it," Nielsen spokesperson Gary Holmes told the E-Commerce Times. "It seemed like a natural fit to put these businesses together and provide even more value for our clients."
Bringing on IAG will help Nielsen add additional meaning to the reams of numbers the company brings to its clients, he added.
"We've got many, many different data sets on consumer behaviors and different industries, and I think IAG can use that data to provide even greater insight into their existing clients and reach out to new clients, as well," Holmes noted.
The move makes sense for IAG, Gould and Orkin said. "By working within Nielsen, we will also be able to make the company's services available to a wider base of clients. In an increasingly fragmented media landscape, we believe strongly that advertisers and media companies need the insight that Nielsen and IAG can provide together."
Synergies From Top Down
IAG will be merged with an unnamed Nielsen subsidiary, and Nielsen will finance the deal through the issuance of notes, existing facilities and cash it has available.
"It seems like a lot of synergies," Alan Chapell, president of Chapell and Associates, told the E-Commerce Times.
It also puts Nielsen into a better competitive position against other market research firms, such as Millward Brown, which specializes in brand performance. "It seems to make sense from a high level," he noted.
The addition of IAG will bring energy and multiple opportunities to Nielsen, said Nielsen Chairman and CEO David Calhoun.
"IAG will add a new dimension to Nielsen's media business, and will be the cornerstone for a new analytics practice that will provide our clients with even greater insights and clarity," he commented. "Overlaying their perspective with the vast array of industries and technologies we touch gives us an opportunity to bring greater clarity and creativity to our work on behalf of our clients."
Nielsen's divisions include marketing agency ACNielsen, media information outlet Nielsen Media Research and online intelligence branches NetRatings and BuzzMetrics. The company, which also is involved in trade shows and mobile measurement, also publishes Billboard, The Hollywood Reporter and Adweek magazines.