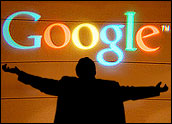 TheEuropean Commission has given its long-awaited blessing to Google's proposed US$3.1 billion acquisition of online advertising company DoubleClick.
Coming nearly a month ahead of an established April 2 deadline, the decision rested on the EC's findings that the merger would not hurt consumers or impede competition within the European Economic Area.
"The elimination of DoubleClick as a potential competitor would not have an adverse impact on competition in the online intermediation advertising services market," the commission said in announcing its decision.
The EC noted there were "credible" competitors in the space — including Microsoft, Yahoo and AOL — and it reasoned that a Google-DoubleClick behemoth would have no profit incentive to squash competitors in the online advertising industry.
Competitors Disagree
To be sure, the competing vendors hold different opinions. Microsoft, for instance — which has engaged in several high-profile disputes with the Commission about competition in the EU — did an about-face, arguing that the Google-DoubleClick deal would narrow the field so much that competition would be stifled.
Of course, Google's acquisition of DoubleClick will narrow the industry — that is the point of the transaction. "The tendency of every industry is for companies to accumulate as much market influence and competitive capabilities as they possibly can," Charles King, principal of Pund-IT told the E-Commerce Times.
"I would expect the acquisition of DoubleClick will easily help the company solidify its position in the marketplace," he added, noting that it also brings up questions about how its competitors will be able to effectively compete.
Bigger Heft
Consolidation is the obvious answer, especially as consumers have begun to cut back spending in the face of recessionary pressures. Yahoo, for instance, has not seen the end of suitors bidding for its hand.
It will either be bought by Microsoft or another player. AOL is not out of the game, though it is ripe for acquisition — or possible spin-off from Time Warner — as well.
Green LightRegulator ides of the Atlantic appear to be sanguine about the size and diversity of the market. Also, privacy issues are not turning out to be the bugaboo that some had expected — despite activists' outcries during the Federal Trade Commission and European Commission hearings.
The next flurry of deals should move forward with few delays, now that the regulatory agencies have eliminated the biggest stumbling blocks to mergers in this space.