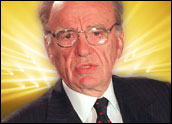 With sights set on becoming a major Web player, News Corp. said today it would buy IGN Entertainment, a site where some 28 million gaming fans visit for new software, gaming tips and other features, for US$650 million in cash.
IGN and related sites — which operate under names such as GameSpy, FilePlanet, TeamXbox, Rotten Tomatoes and AskMen.com — will become part of the recently created Fox Interactive Media unit at News Corp.
Emerging Internet Force
News Corp. CEO Rupert Murdoch said the buy moves his company "a long way toward achieving two of our key strategic objectives in our efforts to become a leading and profitable Internet presence."
Murdoch said the traffic from the site — it gets 28 million unique visitors monthly — would boost Fox Interactive to the fifth busiest family of sites online in terms of visitors and the fourth largest in terms of monthly page impressions. It also helps round out the content offerings that Fox brings to the Web.
"By acquiring IGN and its compelling sites, we now have top entertainment sites to go along with FOXSports.com, as well as our myriad news sites, headlined by FOXNews.com," the media mogul added in a statement.
The buy comes on the heels of the purchase by News Corp. of the Intermix family of sites, which includes a range of entertainment and sports-related properties.
Growing and Gaming
In IGN, News Corp. gets a fast-growing Web property that is trying to turn the corner to profitability.
According to documents filed with the Securities and Exchange Commission (SEC) in support of an initial IPO filing earlier this summer, IGN had revenue of $28.7 million for the first six months of 2005, more than double 2004 levels. It also trimmed its losses to $7.5 million from $11.6 million the year before.
The sites offer chat boards and opportunities for interactive and head-to-head gaming. It also features game and add-on downloads and game and movie reviews and previews.
Many analysts believe Murdoch is not yet done buying and some believe a search engine purchase looms on the horizon. News Corp. has already been linked in market rumors and published reports to Blinkx, the search engine that is hoping to carve out a niche as a video and audio file search specialist.
Follow the Money
Others have sought similar synergies, with Viacom buying pre-teen focused sites such as Neopets to go along with sites such as MTV.com. Other traditional media outlets have eyed the Web for growth as well, as in the New York Times Company's purchase of About.com.
Forrester Research analyst Charlene Li said the reasons are clear: At a time when television advertising is seen as losing its punch because of the rise of personal digital video recorders, other technology and the splintering of the TV viewing audiences to cable channels and other venues and as newspaper readership continues to decline, Web marketing offers promising results.
"The Web offers the ability to target audiences and tailor messages in a way that almost no other format can," Li told the E-Commerce Times. "Media companies see advertisers putting more of their overall spend into the Web and they don't see why they can't be part of that."
In fact, with established relationships with advertisers, strong brand names and a well of strong content, traditional media outlets may be well positioned to take a slice of the online marketing pie.