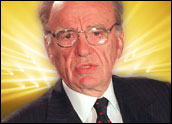 Fresh off a social-networking buy, traditional media giant News Corp. may be looking to further extend its online reach and has reportedly moved to acquire search engine Blinkx, which has specialized in helping users find music, video and other media online.
Neither company would comment, but several published reports say talks are under way about a possible acquisition of Blinkx. Speculation about News Corp.'s next online move ramped up last week when Chairman Rupert Murdoch said during a conference call to discuss earnings that the company was "in very advanced negotiations to buy a controlling interest in what we think is a wonderful search engine."
Murdoch's News Corp. recently established the Fox Interactive Media division to house its Web holdings and has said he would spend at least US$1 billion to build a portfolio of companies.
If the deal goes through, Blinkx would join a stable that is already slated to include Intermix Media, operator of youth-focused social networking site MySpace.com. News Corp. has reached an agreement to buy Intermix for $580 million, but has yet to close that deal. It also bought Scout Media, which operates sports-focused Web sites, in a deal worth $60 million.
Though holding just a fraction of the market share for search compared to giant rivals such as Yahoo and Google, Blinkx has won some converts with its "smart folder" approach to search, which continues to search for relevant content and adds it to a user's folder. In that way, a video search for content that has not yet appeared online may be updated later once the video is posted to a Web site, for instance.
Strategy Questioned
Not all analysts believe the match is made in heaven, however, with some questioning the strategic value of the purchase and others saying that News Corp. could have its eyes on several niche players, such as LookSmart or Technorati, which specializes in blog search. But others point out that as a content company that also owns movie studios and TV networks as well as newspapers, News Corp. could leverage Blinkx as a way to help users find its content.
In many ways, the deal would mirror the buyout of Ask Jeeves by Interactive Corp./IAC, though Jeeves has a larger market share than Blinkx and also has a strong foothold in the paid advertising marketplace, which Blinkx largely lacks.
"The move makes absolute sense because Blinkx has just what News Corp. may be looking for in a search engine — extended multimedia search," said Search Engine Journal editor Loren Baker. "Blinkx searches video feeds, TV episodes, news, and even uses speech recognition technology to index the audio of its indexed clips."
Murdoch's media empire has also been linked to other possible acquisitions, with one widely cited rumor having News Corp. buy upstart P2P phone and messaging company Skype. Analysts say most of those rumors are an outcropping of the pile of cash that Murdoch has to spend and his penchant for making big splash once he sets his sights on an industry or niche.
Treading Among Giants
While Yahoo, Google and others have made runs at video and audio search, Blinkx has been seen as having a technological edge by many observers. For instance, Blinkx uses voice recognition software to create transcripts of video clips, enabling keyword searches of those videos, a feature some others don't offer. Blinkx was also among the first to bring RSS (Really Simple Syndication) to the video arena.
In fact, Blinkx often points out that its search engine was designed specifically for finding multi-media. "Traditional search engines such as Google and Yahoo were developed for text-based keyword searches, not for audio or video content," founder and CEO Suranga Chandratillake said in June. "The prevalence of broadband and multimedia is driving demand for next generation search capabilities."
But having strong technology without the attendant market share or revenue stream may be what makes Blinkx such a likely takeover candidate. Forrester Research analyst Charlene Li told the E-Commerce Times that surveys showing that Web users often use multiple search engines — with little loyalty among users toward a single brand — ensures a long, brutal war of attrition among the search players.
"There is room for more players, but the ones with the brand names and deep pockets to innovate and market have the advantage," she said.