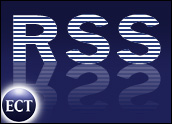 Following the footsteps of rivals and possibly laying the groundwork for new marketing channels, Google has added RSS and Atom content feeds to its news search product — which has been in beta form for the better part of two years.
Google added RSS (Really Simple Syndication) and Atom feed links to the left side of the pages that appear when a user conducts a Google News search.
These feeds require an RSS reader plug-in to be read, but are freely available on all subject areas of the news section. For instance, clicking on the business section produces a list of top stories as well as syndicated content feeds. Users can also choose what content to have fed directly to them.
Most Requested Upgrade
Google said it added the feature after multiple requests from users, saying that such a feature was the most requested upgrade to the news search pages. It joins a host of specialized news aggregation sites and other large search and portal companies in offering such services to users.
"For some time now, the Google News team has noticed a steady uptick in feature requests for feed support," Google software engineer Vijay Boyapati wrote in the official Google blog.
Analysts note that RSS is seen by many growing into a major force for distributing not only content but also advertising on the Web. While RSS is heavily used to distribute printed content such as news stories and blogs, some firms have begun to offer similar feeds for audio and video content, possibly opening still more avenues for marketers to reach Web users.
Forrester Research analyst Charlene Li noted that RSS is getting heavy attention from investors funding startups and from established companies alike, despite the fact that survey results show as few as 2 percent of all Web users employ RSS. One big reason, Li told the E-Commerce Times, is that some 57 percent of marketers active online have expressed interest in using RSS to get their message out.
Growing Concern
"With almost every other major player doing this, it was about time that Google followed suit," Li said. One key reason why marketers might want in on syndication feeds is that those who do use them are voracious consumers of content, or as she put it, news junkies.
That means they view content from sources multiple times each week, making them better targets for reinforcing marketing messages.
However, Li and others believe the intersection of RSS and marketing is still being figured out by content owners, portals and search sites, and others. Google has its own designs, having applied for a patent on a method of delivering ads along with syndicated content — although the early release of the RSS feeds on Google News are ad-free for now.
Word of that patent move, which was made public just recently despite the fact the patent application was filed in late 2003, reverberated around the Web content industry, with many doubting that such a patent could be granted given how many other players are actively looking to blend ads with content through RSS.
Cutting Out the Middle Man
One reason cited for Google making the move to embrace RSS was to cut out a middle man, with Google content often being grabbed and consolidated by various news reader programs.
Indeed, the terms of service for using the Google News RSS dictate that Google be given credit as the source for news feeds and that the exact source of news content be cited as well. A publisher must also include a link to the Google News block of stories in which the syndicated content is included.
Individual users can also choose to have RSS feeds sent through their customized Google home pages, a recently added feature to the Google menu of services, one that was seen indicating Google becoming more like a Web portal than ever before. Earlier, Google gave users the ability to customize the look and content mix on the Google News search page.
"Do not be surprised to see Google AdSense contextual ads integrated into Google News RSS feeds once the syndication takes off," Search Engine Journal Editor Loren Baker wrote in her blog. "Google AdSense has been working quite hard on moving into the RSS advertising field and the Google News feeds will be the ideal location to showcase their relevant advertising."