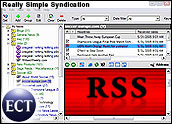 Real Simple Syndication (RSS) — the technology used to create feeds of information directly to a user from Web sites and blogs — is in its nascent stages of development, but it's one marketers should be taking a hard look at as a future vehicle for their wares.
Marketers who shun RSS now might reap unfavorable consequences in the future, according to Forrester Research analyst Charlene Li.
"While some marketers use the argument that the audience using RSS is too small to justify the investment, Forrester believes that because the audience is so small — and the investments minimal — that its low risk is precisely why now is a good time to test it," Li said in in a two-part Forrester report released two weeks ago.
Top Priority
"Understanding how RSS impacts existing customer loyalty should be at the top of the priority list," she added.
Li noted that only 2 percent of North American adults in online households use RSS.
"Why should marketers care about what is an admittedly niche application used by such a small group of online consumers?" Li asked in the report, a copy of which was obtained by the E-Commerce Times. "Because they are, literally, tomorrow's customers."
Forrester Vice President Henry Harteveldt added that RSS users are predominantly under the age of 30. "They're the future generations of customers," he told the E-Commerce Times. "So RSS is critical for any organization that wants to reach out to people under the age of 30."
Audience Lowballed
Although RSS is a niche application now, it might be a bigger niche than survey numbers indicate, maintains Sally Falcow, president of Expansion Plus, a marketing and public relations firm in Pasadena, Calif.
"There are a lot people doing RSS who don't know they're even doing it," she told the E-Commerce Times. That's because the technology is deployed inconspicuously at places like Yahoo and MSN and in browsers like Safari and Firefox. "So you can be reading RSS and not even be aware of it," she explained.
Moreover, RSS usage is growing incredibly fast, she added. Feedburner, a Web site that tracks RSS activity, reports that feed subscriptions are growing at 1 percent a day. "That's an amazing amount," she said. And USA Today and the New York Times have reported double digit increases every month in their RSS subscriptions.
Barking Up Wrong Tree
However, the growing numbers isn't the only magnet attracting markets to RSS, Ray Valdes, an analyst with the Gartner Group in Stamford, Conn., said.
"Marketers are attracted to it because marketers are attracted to anything new, anything that can give them an edge," he told the E-Commerce Times. "They're barking up every tree they can find, and I don't know if this is a particularly good tree to bark up at."
He noted, "I don't think RSS will be an effective marketing medium for marketers that are using a traditional approach, that view this as another way to send out press releases."
"There are few marketers who are more savvy, who understand that this is a new medium that has different characteristics, different strengths, different weaknesses and that they can take advantage of it and be very effective," he added. "But that's a very, very small number."
Buxom Anglers
He explained that RSS is less about image than it is useful information. Ads containing buxom anglers in bikinis, for example, wouldn't be effective in a feed from a blog that's used to trade tips on fly-fishing. A text-oriented ad with nuggets of information would be more appropriate for the audience of that blog, he explained.
While RSS could become an important marketing vehicle, Valdes doubts that it will become an important advertising one.
"It can be a very important medium for marketing in the sense of protecting, supporting or tuning a brand message and listening or conducting a conversation with a market," he said. "But in terms of an advertising medium, in terms of advertising revenues, that's a different story. I don't see that in the near future."
As RSS gains popularity, will marketers do to it what they've done to the Web with pop-up advertising and e-mail with spam? "Never underestimate the power of marketers to ruin an opportunity presented to them," Forrester's Harteveldt said.