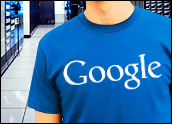 Seeking to lay claim to a technology that could help create a syndication network for advertising that would be distributed the way blogs and other newsfeeds are now, Google has applied for a patent for its RSS advertising feed.
RSS, or Really Simple Syndication, is a widely used technology that enables content to be fed automatically to various Web pages. It's heavily used to populate Web pages, such as the personalized start pages of portals like Yahoo, with news headlines, Weblogs and other material.
Google filed an application for "Embedding advertisements in syndicated content" that would cover the practice of using a server to automatically provide keyword or content based targeted ads that are incorporated directly into syndicated feeds of content.
Ad Placement Automated
Such ad feeds could then be automatically tracked for billing purposes, and when combined with Google's existing self-service ad auctions, could automate virtually the entire ad placement process.
"The automated targeting and insertion process allows ads to be kept current and timely while the original feed may be considerably older," Google wrote in its application. "Once the automated ad server has combined keyword or content-based ads with the syndicated content, the feed would be delivered to the user via the news aggregator of their choice."
News of the application, filed at the end of 2003, broke on various Web sites over the weekend. Google did not immediately respond to a request for comment on the application.
The patent application on the U.S. Patent and Trademark Office Web site is dated June 28, 2005. A spokesman there said that reflects the date when it was finally posted online and said that no decision had been reached on the application and no timeframe for a ruling on whether the patent would be issued was available.
Red Hot RSS
The revelation of the patent attempt comes as attention has been focused on the opportunities offered by RSS and a related technology, known as Atom. Though the technology is inherently open in nature, several companies are looking for ways to use it to better aggregate and sort through the flood of blogs and other content available on the Web.
The patent application lists the inventor as Nelson Minar, who on his personal Web page says that he works at Google on development of the firm's Web APIs, tools to help others develop applications to work with Google's technology.
Search expert John Battelle, a professor at University of California at Berkley and an independent media and search consultant who has written a book on Google called The Search, said receiving the patent could be significant depending upon how much of the ad delivery process it covered. "Many folks have been doing this for some time," he said. "It could have a ripple effect."
Special Delivery
In fact, many observers have noted that Google was relatively late to the party as far as using RSS to deliver ads on a greater range of content, having launched its own service in April, well behind several competitors, including those who arrived from the content-aggregation side such as Feedster, Kanoodle and Moreover.
Though it has generated much hype, RSS is still used by only a fraction of the overall Web population, analysts note, with a recent Pew Internet & American Life Project study estimating that 5 percent of Web users have utilized the technology to choose content to read.
Still, if nothing else than the growth potential that lies ahead, analysts say the patent would be a significant win for Google — and one likely to face challenge.
"Given all the different takes on RSS out there, there's definitely a good chance someone else could say they had something similar before Google got to it," Forrester Research analyst Charlene Li said.