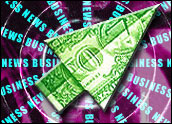 The New York Times' management is hoping the second time's a charm with a decision to charge for online news access starting March 28. Non-subscribers will be allowed to read 20 articles per month for free, while print subscribers will get full access at no additional charge.
"Hooray for The New York Times! It's about time that the days of free content come to an end," said Patricia Vaccarino, managing partner at Xanthus Communications.
The subscription fees appear to be app-based. Non-print subscribers will pay US$15 per month for unlimited access and a smartphone app; $20 per month for an iPad app; and $35 monthly for both a smartphone and iPad app.
Among big-name newspapers, the Financial Times and The Wall Street Journal both charge for online access. The New York Times tried a fee plan once before, in 2005, but ultimately dropped the experiment.
"Today marks a significant transition for the Times, an important day in our 159-year history," New York Times Chairman and Publisher Arthur Sulzberger Jr. said in a statement.
Spotting a trend away from all-you-can read free content that has sent writing wages plummeting, Vaccarino told the E-Commerce Times that "professional writers and journalists should get paid for their work. This one small move will help change the industry, and soon a price will be attached to high quality content."
Changing Times
Given the Times' reputation for quality, readers might be willing to pay this time around.
"The New York Times remains the newspaper of record," said DJC Communications principal Debra Caruso. "Those who canceled their print subscriptions because they could get the paper online will now be forced to pay, because the content is important."
Times change, and trends topple too, observed John Brice, a former business journalist and principal at Brice & Associates. "We all said we would never pay for TV, yet most of us now do just that — after a lifetime of getting it for free," Brice told the E-Commerce Times.
With six years of retrospection behind them, Times management may also be better prepared to handle the pay wall transition.
"The Times has done a great deal of research and they know what they're doing," DJC's Caruso told the E-Commerce Times. "No matter what, the Times will keep its core readership. The major challenge will be attracting new readers. Those outside government, politics and journalism younger than 30 do not have the same allegiance to the paper."
Profit Motive
After giving away their content for years — and failing at a pay model — The New York Times either has everything to gain — or everything to lose — in what's largely viewed as a predictable move with simple motivations.
"The Times is looking for digital revenue to replace lost paper subscriptions," said Carl Howe, director of anywhere consumer research at the Yankee Group.
"The Wall Street Journal successfully added a pay digital subscription service; the Times is looking to replicate their success," he told the E-Commerce Times.
Times management may also be looking to build a new generation of loyal readers, said attorney Ronald Camhi, head of the media and advertising practice at Michelman & Robinson.
The subscription app not only builds loyalty, Camhi told the E-Commerce Times, but also a sense of "exclusivity to the platform" that, in turn, could increase ad revenue.
Ad revenue has long been the raison d'etre for all online content, noted Mukul Pandya, editor-in-chief of the Wharton School's journal, Knowledge@Wharton. But the assumptions behind that thinking have proven flawed.
"In the past, when newspapers like the Times gave away content, the premise was that free content would drive 'eyeballs' and that traffic would attract online advertising," Pandya told the E-Commerce Times. "It is now apparent that online ads alone are not enough to sustain large publications or their operating budgets, so the holy grail is whether content itself can be monetized to provide new revenue streams."
Gray Lady Up – or Down
Strangely enough, little research exists indicating what content consumers will pay to receive, Pandya explained, so it's "hard to say if the Times will gain lots of revenues."
But Times management will certainly gain plenty of insight into the behavior of online news consumers, he added.
"One thing you get with a pay wall is good data about what your customers really want — since they are paying for it," said Simon Fraser University communications professor Richard Smith.
Besides added revenue, "the Times will gain knowledge," Smith told the E-Commerce Times.
The Gray Lady could also gain headaches, Smith said, if this latest experiment flops.
"It might backfire. The folks who would be most affected with new charges — people who read the whole paper or a lot of stories — are presumably also making all the referrals," he explained. If they flee, down may go new readership.
"In other industries, people making referrals often get free access or even promotions called 'comps,'" Smith pointed out.
Regardless of the ultimate outcome, the new pay wall's appearance will doubtless "accelerate the search within news publishing to find models through which content can be monetized," Wharton's Pandya predicted. "Business publications have already implemented some of these models. The interesting development to watch is whether consumers are also willing to pay for content from a general news outlet such as The New York Times."