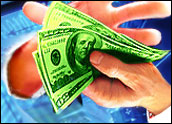 The classic newspaper may finally gets its 21st-century update. News Corp.'s iPad-exclusive newspaper, The Daily, is set to launch on Feb. 2. A weekly subscription will reportedly cost 99 US cents. Issues of The Daily will be delivered automatically through Apple once users sign up.
News Corp. told the E-Commerce Times the company cannot offer more information before the Feb. 2 announcement.
The launch will be held at the Guggenheim Museum in New York City. Apple CEO Steve Jobs was slated to appear, but will not because of health problems.
Building a Paywall, Brick by Brick
News Corp.'s plan to charge readers for access is the latest gambit in an industry wrestling with the question of how to get readers to pay for the news they access. There is a vast amount of news available online for free, most of it sponsored purely by advertising, so it may be difficult to get readers to pay out of their own pockets.
The Wall Street Journal, another News Corp. property, is a rare example of a major publication to successfully institute a pay wall. The New York Times is mulling turning its digital version into a paid subscription model, which will reportedly cost less than $20 per month.
As new technologies change the way people get their news, news organizations are experimenting with various monetization strategies.
The beauty of reading news online is the access one has to multiple sources and perspectives. News aggregation services such as Google News organize articles from many different publications. Readers may agree to pay for access to certain favorite sites, but questions remain about delivery, and setting a price will be a tough balancing act.
Changes in How People Get Their News
People have grown accustomed to getting digital news for free. "I think paid news is a tough market," Carl Howe, director of anywhere consumer research at the Yankee Group, told the E-Commerce Times. "For the foreseeable future, I see app-based news as a freebie to be bundled with a paid print or online subscription. It's a way for people already engaged with the news brand to consume their content in more ways, not as a way to gain lots of new subscribers."
Apple will have to adjust its apps model to accommodate an ongoing subscription. "I think for a paid iPad news app to succeed, it has to allow the user to buy a subscription," said Howe. "At present, that's not allowed in the iPad app store, only one-time purchases."
Choices in mobile news — whether on a tablet or smartphone — increase every day. "The New York Times already has an online iPad app, which I use quite a bit," said Howe. "It will soon become a separate product, bundled free with print subscriptions, but also available separately. My guess is that The Daily will break the subscription restriction in the App Store, and that the New York Times will then be able to exploit that new-found freedom. All that said, though, it's going to be a long, slow slog to get app-based news to approach the consumption rates of Web-based and print media."
E-readers present a new way to deliver news, and their use is on the rise. "One of the things that will help this market develop is the increasing use of e-readers," said Howe. "The more people who have e-readers, the more interested the general population will become in getting other forms of content other than books on those readers. So this market won't be stalled forever — it's just not there yet."
Mobile Content – New Arena for News Sites
News sites are striving to find an effective balance between what people are willing to pay for and what they expect to get for free. "Digital does not mean free," Al Hilwa, program director of applications development software at IDC, told the E-Commerce Times. "While modern media has been in the process of adjusting to the digital age, the mix of paid versus free news has certainly been in flux."
Content delivery on tablets and mobiles will be a battleground for news organizations.
"It makes sense to me that there may be a tier of news and analysis that has to sit behind paywalls," said Hilwa. "The tablet form-factor opens up more opportunities for experimenting with the structure of this paywall. Content-based applications as a category is definitely one of the more exciting new things going on tablets today."