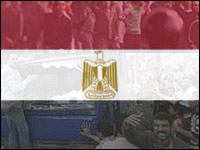 In an abrupt about-face, the Egyptian government reopened the Internet Wednesday, ending a five-day shutdown that took out the country's top ISPs and a rebellious populace's ability to communicate.
The move comes shortly after Noor — the only ISP initially left standing after the crackdown — was shuttered Monday. Noor, too, is back online, and Egyptians are back on the streets — this time fighting one another, with civilian forces loyal to embattled Egyptian president Hosni Mubarak launching a tank-less rock-throwing campaign, complete with horses, camels and clubs.
Whether Egypt's return to the Web signals a Mubarak softening is hard to say. He may simply be resigned to the fact that "people will communicate," Simon Fraser University professor Peter Chow-White, an expert on social media and new communication technologies, told the E-Commerce Times. "Trying to stop communication in the digital age is like trying to plug the leak on an information dam. People will find the cracks, holes, and ways around it."
Redundancy Repercussions?
Large telecom providers were the first to come back online: Vodafone Egypt, Etisalat and Orascom Telecom, in order of reappearance. Social media mavens joined soon after.
"I am ok…just tear gassed on Thursday & Friday," tweeted Hany Fakhry, an IT and telecom project manager, according to his Twitter profile.
Like Fakhry's return to Twitter, Egypt's return to 21st century communications "wasn't totally smooth," reported Internet intelligence firm Renesys, whose popular blog has been posting a play-by-play analysis since the shutdown took effect Jan. 27.
Some Egyptian universities and Egypt's .eg domain servers only gradually came back — the process of removing redundancies in various networks slowing the recovery, a Renesys-reported situation that suggests Egyptians should be wary about how their government restores online service. Remove too many redundancies, and you jeopardize the Internet's robust re-routing capacity.
"The Internet was built on the concept of 'redundancy,'" Brooklyn Law School telecommunications law professor Jonathan Askin told the E-Commerce Times. "It is designed to allow for multiple routing paths, so that communications flow even if one path is severed."
Today's Lessons
Redundancy preservation can take many forms, as Egyptians taught the rest of the world by marshaling dated technologies such as fax machines and dial-up modems to navigate around the darkness.
"Now that we recognize the Internet might not be accident or sabotage-proof, historic modes of communications should not die like lost languages," Askin said. "Twentieth century technologies like shortwave radio operations might be the most capable tools for broad communications during an Internet outage."
Watching and learning such things is part of what Askin calls "an important exercise for citizens to prepare to function in the event that the Internet stops functioning, whether by accident, nefarious intent, or someone's perception of a noble reason."
Fortunately, "human social networks are adaptable, resilient, and not dependent on technology," one of several other "takeaway lessons" from the Egyptian crisis, said Ed Shepard, marketing vice president for Apple retailer Small Dog Electronics.
"Technology is important insomuch as it enables incredible acceleration of information," Shepard told the E-Commerce Times. "But even without Twitter or Facebook, people in densely populated urban regions, where the Egyptian protests started, apparently rapidly exchanged information."
Presidential Policy
Mubarak's official explanation for the Web-out had him "taking the side of citizens' freedom to express their views" while "defending Egypt's stability and security" and navigating a "fine line between freedom and chaos."
That rhetoric falls short to some experts, especially peppered with references to freedom.
"One of the tactics to stifle protest is to disrupt communication," said SFU's Chow-White, who went so far as to call Internet access a burgeoning basic right, at least in democratic societies.
Now that Mubarak has restored Internet service, disbanded his existing government, and announced that he'll leave office (but in September) does it all mean he's relenting?
Not necessarily. He still worries, for instance, that the "current and future of the Internet is unpredictable," in his official statement, broadcast Friday by Arab news service Al Jazeera.
Big red letters — in both English and Arabic — on the Google cache of presidency.gov.eg, which has been offline since January 25, might in fact be the only certain Mubarak administration pronouncement of late: "This site is under development and reconstruction."