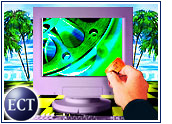 Such onetime high-profile visionaries as Thomas Middlehoff, Jean-Marie Messier and Robert Pittman have lately departed their firms in droves, leaving corporate spectators to wonder whether broadband is broken. Messier's vision of seamless media convergence may still have life at Vivendi-Universal, however.
Vivendi subsidiary MP4.com is taking a retro route to the future, featuring Web-based short films and animations — better suited to Internet downloads and streaming than full-length feature films, and first introduced to theWeb by pioneers like Mika Salmi, founder of AtomFilms, in 1999.
"We want MP4.com to do for digital video what MP3.com (whichVivendi-Universal acquired in 2001) has done for digital music,"Natasha Rabe, general manager of MP4.com, told the E-Commerce Times. "MP4.comwill be a destination, community and hosting service for amateur videohobbyists, independent filmmakers and animators, as well as apromotional platform."
In the Beginning, the End Was Near
Some 125 small firms with venture funding and advertising-basedbusiness plans, such asAtomFilms, Hypnotic and Cinemanow, once dominated Internet-basedfilm and animation distribution, but the dot-com doldrums claimed allbut about 10. High-profile startups — including New York-based Pseudoand Los Angeles-based DEN (Digital Entertainment Network) — sufferedpainful public flameouts that stifled investor enthusiasm.
"In the beginning, everyone wanted to host animation and othercontent," animator Dave Redltold the E-Commerce Times. "Everyone fancied themselves the next Cartoon Network."
The Great Broadband Stall
Broadband promised inexpensive, plentiful and easy-to-acquire contentfrom independent artists and struggling auteurs shown free of chargeto viewers with broadband connections and supported by advertising.Broadband content, however, failed to deliver because only a smallminority of the U.S. population — about 5 percent, according to estimates — had access to DSL, cable modem or T1 connections. That percentage has changedlittle in the past five years.
According to American University communications professor and Center forSocial Media director Patricia Aufderheide, there is a stall in broadband delivery in the United States. As a result, she told the E-Commerce Times, "broadband certainly does not, in its present configuration, look like a replacement for other mass media."Aufderheide also has served on the jury for the Sundance FilmFestival and is the author of "Communications Policy and PublicInterest: The Telecommunications Act of 1996."
Hi-Fi, Lo-Fi, QuickTime, Flash
Capital-intensive technical requirements — encoding, streaming andhosting video files — rapidly consumed the sparse advertisingrevenues generated by early entrants into broadband entertainment.Vivendi-Universal faces similar hurdles, but with a well-fundedinfrastructure. "MP4.com encodes, and accepts encoded files, in hi-fi and lo-fi [formats, such] as Windows Media 7.1 and QuickTime. We also serve Macromedia Flash 5files," Rabe explained.
Such firms as BMW and Skyy Vodka place products in short Internetfilms — a burgeoning new advertising format Rabe wants to tap. "Wehope to be able to connect independent artists with cutting-edgebrands as content and advertising coexist and even merge," sheexplained.
Next New Advertising Thing
Product placement represents a natural evolution of Internet-basedadvertising, according to streaming media expert Tony Greenberg, CEOof RampRate Technology Advisors. "Hits-based advertising models, suchas online short films, will migrate toward sponsored, branded, ad-basedcontent — possibly in the form of heavy product placements,"Greenberg told the E-Commerce Times.
MP4.com also may have a key advantage that its predecessors in the onlineentertainment business lacked — profitable offline content topromote.
"Usually, studios or TV channels will have exclusive content on theirWeb sites for the sole purpose of promoting their TV shows and movies,"said film director Chris Mancini, whose first online film, "Skins," was nominated for multiple Pixie Awards — the online version of theOscars. "Sites like AtomFilms and Hypnotic are distributors and sellshort films and advertising, but that revenue is not enough to fund alarge company," he told the E-Commerce Times.
Versatile and Beautiful, If Not Profitable
Today, small firms that provide online entertainment do so forexposure, marketing and reasons other than direct profitability.
"The Internet has opened doors for me that I never imagined opening inthe first place," animator Stan Holdentold the E-Commerce Times. "For instance,I have a Hollywood agent on the verge of selling the script for myonline animation, to be produced as a full feature."
"Right now, there is no real method of making good money for animationonline," animator Redl explained. "Most do it for fun or for hope ofbeing 'discovered' by more traditional entertainment outlets."
Fear of Digital Delivery
Although Warner Brothers recently entered the video-on-demand business, "ingeneral, incumbents with working theatrical outlets are not beingdriven to consider alternatives," Aufderheide explained."Creators often fear digital delivery, and large media corporationsare concerned about piracy."
All of this may make Vivendi-Universal's MP4.com the sole optimistamong big media players in the realm of the small digital screen.
"The beauty of the Internet is that it has introduced a realm of newchoices," MP4.com's Rabe noted. "We are not constrained by thesame dynamics that ultimately produced half-hour and one-hourprogramming."