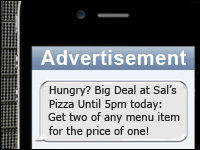 Nuance on Monday unveiled Voice Ads, a platform that can allow companies and marketers to use voice technology to better target on-the-go smartphone users with interactive advertisements.
Online marketers want to reach consumers on smartphones and tablets, but tiny screens and other factors related to mobile devices present challenges for advertisers used to designing desktop banner ads. With Voice Ads, advertisements can be optimized to react to voice conversations to create a more engaging experience between a company and its target audience.
Nuance offered a video demonstration in which a fictional deodorant company allowed users to ask a Magic 8 ball a question. The ad provided an answer to the dilemma, then reminded consumers not to "sweat the small stuff" and use the deodorant.
Unlike ads that are designed for PCs and then shrunk to fit a smartphone, voice technology can lead to more memorable interactions with a company or product, said Peter Mahoney, chief marketing officer at Nuance Communications.
"The first thing people think about is creating a literal conversation with your brand," Mahoney told the E-Commerce Times. "The ability to have a two-way dialogue first of all leads to a tighter relationship, and saying the name out loud really helps with recall. You're creating a really strong brand connection whenever you feel that when you say something, a brand is being responsive to you."
Next Big Thing?
Nuance is billing Voice Ads as a potential game changer in the industry, although it's certainly not the first time that advertisers have hoped that voice recognition technologies can reach a segment of the population, said Dan Miller, senior analyst at Opus Research.
"In the past, firms like Tellme and General Magic had hinted at the possibility of intelligent, targeted voice-based ads," he told the E-Commerce Times. "They failed at the time because they were ahead of their time. More specifically, Tellme lacked the conversation management to recognize the context of an interaction."
Voice technology has evolved since then, Miller noted. Now, it can pick up on context clues and even ambient sound to determine if a user is in a noisy location, such as a bar, where a voice ad might not be heard.
With technology finally catching up with advertising imaginations, the possibilities for effective mobile voice ads are growing, he said.
"Technology providers are just starting to figure out the commercial potential of automated speech plus smartphones plus artificial intelligence and conversational technologies in the cloud," Miller said.
Driving Interaction
The obvious commercial potential for voice ads is engagement, said Nipa Shah, president of Jenesys Group, made all the more effective since users would have to actively go to a voice ad in order to interact with it.
"Since users need to click on the ad, it may well become a very good option for brands," she told the E-Commerce Times. "People like to watch and listen to things more than just read, so this may just be the next best thing for advertisers."
The ads could especially have a place where voice is already being used in advertising, such as in streaming services like Pandora, said Mahoney. For instance, if an advertising platform using Voice Ads could also use a GPS service that tracked a user location, an ad might ask if that user liked coffee. If they answered they liked lattes from Starbucks, the ad could offer a coupon for a dollar off at the nearest Starbucks location.
"Most of the ads streaming services have today haven't worked well in that environment, but it is a great medium to engage in conversation," he noted. "You can ask people if they want to talk to you. Most streaming radio and video services offer the lean back experience, and don't interact directly, so this is pretty compelling."
Execution is Critical
For all the potential upsides to using voice technology to reach mobile users, however, executing the ads will be crucial, said Miller. There is a fine line between delighting users with a coupon to the nearest Starbucks, and alarming them at how much personal information can come from an ad.
By making sure that it is the users who want to engage, mobile advertisers have the chance to use Voice Ads or other similar services as a direct marketing opportunity.
"The make-or-break will be the participation of the mobile advertising ecosystem," Miller predicted. "As with all targeted promotional media, privacy will become an issue, and the success of a service like this depends on how well it is engineered and executed by Nuance and accepted by the mobile advertising community."