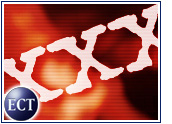 The Web sites are fancy, and the merchandise is nicely arranged with descriptions telling you exactly what your hard-earned money will buy, but these e-tailers aren't selling books or blenders.
They're virtual brothels, offering sex for sale. In this special report, the E-Commerce Times takes a look at the oldest profession as it moves into the New Economy. Cyber-escorts, which more often than not offer illegal transactions, are adopting the e-commerce standards of legitimate business while playing a black market game.
Indeed, the Internet has changed the face of prostitution. Some escort Web sites merely show online catalogs with pictures of scantily clad women. Other Internet escort sites give potential customers high-tech options, such as searching a database detailing a particular escort's availability, scheduling an appointment, and even paying a deposit using person-to-person online payment services.
"Online prostitution has proven to be a highly profitable venture," said Peter Hampton, the founder and president of Web Police, an international crime fighting organization that serves as a clearing house for complaints about Internet-based crimes. "It is growing at a rate equal to or exceeding pornography."
Hampton told the E-Commerce Times that the number of complaints made to his organization has "increased significantly" since last summer, when Web Police received an average of 50 to 75 reports of prostitution each week out of a total of 1,500 complaints.
Another Digital Divide
The divide that separates high-class call girls from streetwalkers extends into cyberspace, with some prostitutes making do with small classified ads and others having sophisticated Web sites that rival those of Fortune 500 companies.
Common site features include performance reviews, tour schedules indicating when the women will be visiting certain cities, and online scheduling capabilities.
"These girls employ their own teams of IT (information technology) specialists to handle advertising [and] transactions, and to also ensure they remain anonymous; others are members of sophisticated groups who handle their affairs," Hampton said.
And at least one Internet escort service has a link to online pay service PayPal allowing customers to send in payments in advance.
Legal In Nevada
Nevada is the only U.S. state in which brothels can operate legally. Some of Nevada's approximately 30 brothels have taken full advantage of the power of the Web.
Donna's Ranch in Wells, Nevada has a Web site offering a tantalizing menu of available services. Among the tamer choices on the menu are "All Night Ecstasy" and "Very Naughty Dancing."
However, Donna's menu does not include prices. Would-be customers are advised: "Prices are only quoted at Donna's, by each lady, because they are all priced differently."
Marketing Frenzy
Even outside the friendly confines of Nevada, high-tech hookers advertise their wares online, relatively unafraid of prosecution — often under the guise of escort services.
"The advertising of prostitute services on the Internet is illegal in very few areas of the world," Hampton said. "Therefore, these services may advertise openly and without fear of reprisal. Verbiage used may be quite blunt and to the point."
Many independent escorts who advertise online are explicit about what they will or will not do — and, unlike the Web sites for Nevada's brothels, which are coy about the cost, most independents are not shy about revealing their rates on the Net.
Rates charged by the escort services advertising online range from $130 an hour to $2,500 or more for an overnight visit. Notably, many sites include a disclaimer telling customers that the postings are not offers for solicitation or prostitution, but only for the escort's time as a companion.
Feeling Secure
Sergeant Michael Malone, who operates the Chicago Police Department Vice Squad's Call Team, told the E-Commerce Times that many prostitutes who advertise online are surprised to be arrested, because they mistakenly believe the vice squad only cracks down on streetwalkers and not on high-priced hookers.
In any case, many prostitutes are willing to take the risk of getting caught because the punishment for prostitutes is relatively light when compared to other crimes. Barbara Thompson, communications director for the New York City District Attorney's Office, told the E-Commerce Times that prostitutes in New York often get off with a small fine or a week or two in jail. The maximum sentence for a prostitute in New York is three months in jail.
Differing Penalties
According to Hampton: "Many cities have spent hundreds of thousands of dollars of taxpayer money in investigating and prosecuting these cases. The bottom line is that the suspects pay a small fine and are released to continue their activities."
Although prostitutes face only minimal punishment, those running phony escort services can face hefty fines or penalties. The proprietor of an online escort service in New York who was arrested last month is facing up to seven years in prison on charges of promoting prostitution and up to 15 years in prison on related money-laundering charges, according to the New York district attorney's office.
Chicago Cracks Down
Chicago is one of the larger U.S. cities making an effort to crack down on online prostitution. The members of Malone's Call Team spend their days answering ads for escorts that appear online or in local alternative papers and setting up dates, often through e-mail.
Because no crime has technically taken place until money changes hands, even escorts courted online have to be busted in the real world after an undercover cop has paid for the escort.
Malone said his team averages 15 arrests per month of prostitutes who advertise online, including escorts from out of state who advertise their Chicago tour dates. Last week, his team arrested call girls from Georgia and California who were on tour in Chicago for the week.
As more legitimate dot-coms have discovered, operating on the Net does not free a business from offline realities. However, there appear to be some differences between Old Economy and New Economy ways. Malone said that many of the high-tech hookers arrested are "more classy, dress better, and are a little bit more intelligent" than other types of prostitutes.