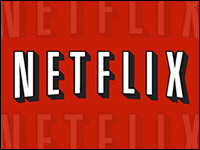 The market is popping champagne corks over Netflix's latest earnings report. A day after the company delivered boffo results and beat Street expectations for the first quarter, its stock has soared by some 25 percent.
Among the goodies in Monday's report: Netflix posted net income of US$3 million, compared to a loss of $5 million a year ago. Profits were 31 cents a share, far more than analysts' expectations of 20 cents.
Netflix also announced that it has signed up more than 2 million new U.S. streaming subscribers in the first quarter, compared to 1.74 million in Q1 a year ago.
Astonishingly, even its DVD segment did better than expected.
"Netflix managed to squeeze a profit even out of this declining business, which shows that the company knows how to manage costs," Andreas Scherer, managing partner of Salto Partners, told the E-Commerce Times.
Much of the growth can be attributed to Netflix's decision to offer more original programming. House of Cards, starring Kevin Spacey, has proven to be very popular.
The company also inked some significant U.S. licensing deals — a past source of concern for shareholders. It entered into a multiyear agreement with Turner Broadcasting and Warner Bros. Television Group for previous seasons of shows from Cartoon Network, Warner Bros. Animation and Adult Swim.
Netflix's DIY Content
The deal with Warner Bros. Television Group is significant because "it illustrates our evolution to a curator of select programming," Netflix said in its letter to shareholders. The company acknowledged that many of its earlier deals included some shows that have not proven successful.
Of course that was not the main sticking point for shareholders. Rather, it was the cost of the content agreements — and the fact that networks held Netflix hostage with its business model — that had been the major source of worry, said Peter Cohan of Peter S. Cohan & Assoc.
"By making their own shows, they are bypassing that high cost to some extent," he told the E-Commerce Times.
Netflix all but invented the content-over-Internet model, which is quickly reshaping the way consumers view media, said Covestor Model Manager Charles Lewis Sizemore.
"Netflix and its competitors are the biggest shake-up to media since paid cable TV," he told the E-Commerce Times.
House of Cards has been a boost to Netflix's reputation in the same way that original programming vastly changed the way viewers thought about HBO and Showtime, Sizemore continued.
"I don't know anyone who buys HBO to watch movies; these days they buy it for its original programming — like the popular Game of Thrones. Netflix is trying to follow that model, and they are wise to. Otherwise, the company is a commodity seller of old content with nothing to distinguish it from its competitors."
Competition Looms
Not that it is clear sailing for Netflix going forward. Not that long ago, it was bleeding subscribers.
Competition from Amazon, Apple, Walmart's Vudu and other streaming services is a significant concern, Sizemore said. "Netflix needs to keep differentiating itself lest it get lost in this crowd."
Certainly, these competing companies are not going to give up their own subscribers without a fight, Scherer added. "All of these providers are fighting for the same subscribers, as well as for the same content."
Content costs remain a concern for Netflix, noted Covestor's Sizemore.
"They've been getting their material from the studios at very attractive prices, but as Netflix grows and comes to threaten the media status quo, the content providers are rethinking this. Higher costs for content, coupled with competition from competing services, mean that margins will likely shrink."