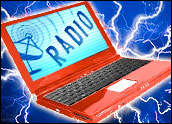 The future of Internet radio may be in jeopardy. Pandora — one of the largest online radio services — is on the verge of shutting down, its founders told the Washington Post. The problem? Royalty hikes put in place last year are costing the company most of its income. And it's not alone.
The federally mandated increase, set to take full in effect in 2010, doubles the per-song rate Internet radio stations have to pay for each play. On the flip side, broadcast radio pays nothing and even satellite radio pays a lower rate. Given that Internet radio appears to be the fastest growing medium of the three, many see the equation as a dangerous disconnect.
Crunching Numbers
Pandora will end up paying 70 percent of its annual revenue to fees, its founder told the Post — a total of about US$17 million in royalties out of $25 million in expected revenue. The company is losing money, he said, and will "have to pull the plug" if things don't change. They and other competing providers have petitioned to have the fees reduced but so far have seen no success.
SoundExchange, the organization that represents the music industry and helped usher in last year's hike, believes the formula is fair for musicians and will give them a much-needed way to earn profit as CD sales suffer an ongoing decline. The Internet-based model, SoundExchange claims, has a higher potential for profit and could make up the money with better-placed ads.
Pandora, for its part, is working on an expanded ad system — but its executives don't appear to think it'll be enough to save the ship from sinking into the ocean of play-based fees.
Talking Timing
The timing couldn't be worse for Pandora, which is seeing a surge in usage following the debut of its iPhone application — an offering that's pulled in millions of new subscribers. The popularity of the mobile-based platform is being dubbed the first sign of a major shift — one that could be put in danger if sites like Pandora can't survive.
"The iPhone, with the app store, has doubled the number of new daily subscribers and has changed the whole conversation about Internet radio," Phil Leigh, a senior analyst with Inside Digital Media, told the E-Commerce Times. "Instead of it being something ancillary or marginal, it's now being considered as something that might well replace satellite radio if not broadcast radio," he said.
As with any new medium still being developed and monetized, Internet radio may just need more time before it's able to turn around a larger profit.
"The birth and the sustenance of Internet radio is a 21st Century phenomenon," David Irwin, director of the Institute for Communication Law Studies at Catholic University Law School, told the E-Commerce Times. "It needs to be differentiated or given enough time to grow and nurture so that it can make it," he noted.
Particularly with other mass media outlets facing their own financial struggles, Irwin said, online radio should be given enough slack to make it past its infancy.
"It would be a travesty if we lost Internet radio in an era where newspapers [and] newsprint is threatened. Even television networks are having to reinvent themselves and come up with new revenue streams," Irwin pointed out.
Finding the Solution
The solution, then, may be finding a compromise. In the end, it could prove beneficial not only for the Internet radio stations but also for the music industry on the whole.
"If the royalties are going to drive [the stations] out of business, then I think the record industry is going to see that that's not in their interest," Leigh commented.
The industry's goal, of course, is to compensate its artists and other interests. No matter how much it wants that, though, if its rates force stations to shut down, then no one's getting anything.
"I guess it's a five letter word: 'greed.' They just got too greedy. They wanted too much. They should be paid something, but it needs to be more reasonable — especially considering the fact that broadcast radio pays nothing," Leigh theorized.
"I believe what will happen is that the record labels will begin to have a more friendly attitude to the industry and be more accommodating," he concluded.
Pandora certainly hopes he's right. However, the clock is ticking, its executives say — and time is rapidly running out.