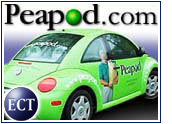 With record sales undermined by staggering losses, Internet grocer Peapod.com has issued a warning that it would run out of cash by the end of the year ifit does not secure additional financing.
The e-tailer posted record fourth-quarter sales of $US23.7 million in its earnings report issued Wednesday. However, the company also was hit with its biggest quarterly loss to date.
The Chicago, Illinois-based company said that its net loss for the quarter was$23.8 million, or $1.33 per share, more than double its net loss of $9.1million, or $0.50 per share, for the same period in 1999.
During thequarter, Peapod also recorded approximately $4.5 million in non-recurringcharges related to changing suppliers and restructuring actions.
Despite the steep losses, Peapod — which was pulled back from the brink ofbankruptcy last year by an infusion of capital from European food giantRoyal Ahold — reported that its fourth quarter sales increased 11 percentover the same period the previous year, and said the growth was "particularlysignificant" because the company closed four markets in September.
"We are very pleased with the progress Peapod continues to make instreamlining and focusing our business," said Peapod president and chief executive officer Marc van Gelder. "We're convinced that we can jointly make this service a profitable and rewarding business with good returns in the future."
The delivery service has more than 124,000 customers in six U.S. markets,including Boston, Massachusetts; Southern Connecticut; Long Island, New York; Washington, D.C.; San Francisco, California; and Chicago.
Looking for Capital
As of December 31st, Peapod said that it had roughly $14.7 million and a$20 million credit from Royal Ahold available for funding its operations.
Peapod said that it expects it will need about $50 million to keep itsbusiness up and running for the remainder of 2001, adding that it iscurrently in discussions with Royal Ahold to receive additional financing.
"Peapod today is in a much better position," said van Gelder. "We areconfident that 2001 will be a strong year in which Peapod makes sustainableprogress with our key operating metrics, as we execute our focused plan forgrowth and future profitability."
Multichannel Focus
Peapod also announced that it will be closing its distribution center in SanFrancisco — the only market where it did not post record sales — in orderto focus on its brick-and-click business strategy with Royal Ahold's U.S.supermarket companies, including joint marketing, co-branding andpromotional efforts.
"We believe we have the best possible bricks-and-mortar partner in Ahold andthe most efficient and scalable business model in the industry," said vanGelder.
Past and Future
For the full year ended December 31st, Peapod said net sales climbed 2percent to $92.8 million, compared with $72.7 million for 1999.
In addition,Peapod reported a net loss for the year, excluding preferred stock dividends, of $56.8million, or $3.15 per share, compared with a net loss of $28.5 million, or $1.62 per share, for 1999.
The Net grocer said it is on track to reach profitability in Chicagoand in one of its East Coast markets by the middle of this year, and in theremainder of its service areas by the end of 2003.
Struggling Sector
Dot-com companies have struggled to gain a foothold in the grocery market.
Earlier this week, perhaps the sector's most dominant player, Webvan, announced that it was cutting220 jobs and exitingthe Dallas, Texas market in a bid to conservecapital and bring its other regional areas of operation to profitability.The closure came on the heels of Webvan's announcement in January thatit was delaying planned expansions into new territories.
Meanwhile, in November, Web grocer Streamline.com, which had served the Boston and northern New Jersey areas — shuttered itsoperations after failing to secure an infusion of capital or find a buyer.The closure came just two months after the troubled company sold some of itsassets and operations to rival Peapod.
In yet another Web grocery shakeout, Priceline.com announced in October thatit was going to discontinue the online grocery service that it had offeredthrough licensee WebHouse Club.