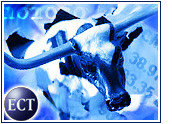 A surprise half-point interest rate cut by the U.S. Federal Reserve sent stocks soaring Wednesday morning, pushing the Nasdaq Composite Index up almost 9 percent by midday.
In the fourth rate cut so far this year, Fed policymakers slashed the federal funds rate to 4.5 percent and lowered the discount rate by a half-point as well, to 4 percent, in an effort to bolster the sagging U.S. economy.
"Capital investment has continued to soften, and the persistent erosion in current and expected profitability, in combination with rising uncertainty about the business outlook, seems poised to dampen capital spending going forward," the Federal Open Market Committee said.
"This potential restraint, together with the possible effects of earlier reductions in equity wealth on consumption and the risk of slower growth abroad, threatens to keep the pace of economic activity unacceptably weak."
The news sent the Nasdaq up 170.63 to 2,093.85 by midday. The Dow Jones Industrial Average, meanwhile, soared 438.66 to 10,655.39, and the Standard & Poor's 500 stock index gained 50.93 to 1,242.74.
Amazon, BN.com Gain
The E-Commerce Times Index was up 9.42 percent at midday, with Amazon.com (Nasdaq: AMZN) and Barnesandnoble.com (Nasdaq: BNBN) posting the biggest percentage gains.
Barnesandnoble.com was up 26 U.S. cents at $1.59 after the online bookseller said it expected a 23 percent jump in sales for the first quarter. The e-tailer said it achieved the gain by cutting back on promotional offers, like free shipping, and forgoing offline advertising.
Lower Rates Could Help Techs
The Fed's move could be a particular boon to technology companies, which have seen demand for their products slump. Nervousness about the economy has caused customers to put off buying new computer systems and other technology products. Lower rates are said to spur spending by making investment cheaper.
Intel (Nasdaq: INTC), which late Tuesday reported a big drop in first-quarter earnings, was up $4.42 at $30.46.
Likewise, computer maker Hewlett-Packard (NYSE: HWP) was up $3.59 to $32.84 despite lowering its outlook for the current quarter and announcing plans to cut as many as 3,000 management jobs. The company said a drop in technology spending is hurting results in its consumer business.
Online market maker Knight Trading (Nasdaq: NITE) rose $1.49 to $16.93 after reporting quarterly results that, while below year-earlier levels, topped its reduced expectations. The company said the first quarter ended March 31st was its toughest ever, with major stock indexes falling to their lowest levels in two years.