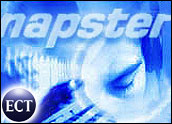 Less than a month after Napster said it would sell its assets to Bertelsmann in a deal worth US$8 million, the online music swapping service has filed for Chapter 11 bankruptcy with the U.S. Bankruptcy Court in Delaware.
Napster's bankruptcy comes as no surprise; the company had assets of $7.9 million and liabilities of more than $101 million. But executives stressed that Chapter 11 is not Napster's swan song. Instead, the company plans to continue with its relaunch plans.
"The Chapter 11 process will allow the company to move forward with a talented team and continue on the path toward launch, while pursuing a plan to make payments to our creditors," Napster CEO Konrad Hilbers said in a statement.
Against All Odds
In its short but colorful life, Napster pitted itself against the considerable brawn of the music industry, which has fought the online service at every turn.
The Big Five music companies joined forces to create competitive services, such as Pressplay and MusicNet, but those services have not come close to attaining Napster's former level of popularity. They require consumers to pay to swap songs, unlike the once-free Napster service.
Napster was essentially shut down by a court order nearly a year ago, but fans and founders alike vowed to keep the service running.
All Shook Up
Bertelsmann broke rank with other large record companies in 2000 when it first decided to invest in Napster. The two companies said they would work together to forge licensing agreements and find legal ways for Napster to offer its music-swapping service.
Bertelsmann has reportedly loaned the company as much as $85 million, even as Napster faced legal challenges that threatened to shut it down.
At one point, Napster CEO Hilbers and co-founder Shawn Fanning resigned, along with other executives. Shortly thereafter, however, Bertelsmann announced plans to purchase the site for $8 million — to be dispersed to the venture capitalists who backed Napster when it first emerged as an underground technology — and said that most of the key executives who had resigned would return.
New Life
"Creating new ways of doing business is never easy," Bertelsmann CEO Joel Klein said when the deal was announced. "Napster will be at the forefront of finding business models that respect copyright, reward artists and deliver entertainment value to consumers. Peer-to-peer is a transforming technology, and we're proud to have Shawn Fanning continue to work on its development."
The latest Bertelsmann deal is designed to breathe new life into the struggling music service, which has found it difficult to reinvent itself and gain ground against entrenched record companies.
Bertelsmann originally offered $16 million for Napster's assets, but that offer was rejected by the Napster board, which was divided by infighting.
No End in Sight
Despite good intentions, though, Napster and other file-swapping services face an uncertain future.
Yankee Group senior analyst Michael Goodman told the E-Commerce Times that although nearly 75 percent of homes with broadband Internet access use their computers to download and play music, the music industry is still undecided about whether digital music is good or bad or how it will use the Web. That indecision leaves questions about the long-term value of Napster.
"No one is quite sure what direction online music is taking overall," Goodman said. "There are all these experiments under way, but no one model that has emerged. It looks like it may be some time before that happens."
File-Sharing Ups Music Sales
But there is mounting evidence that the music industry as a whole could benefit from Napster-like services. Jupiter Media Metrix has released a study indicating that Internet file-sharing actually increases music sales.
According to the research firm, 34 percent of all peer-to-peer file-sharers dole out more money for music than they did before they started swapping tunes online, although 15 percent of file swappers admitted to purchasing less music than they previously did.
About 50 percent of respondents said they spend the same amount of money as they did before they started using such services as Kazaa, Morpheus, Gnutella and Madster.
In an economy that is still struggling, it is not easy to dismiss those numbers outright. It is unlikely that Napster can still change the world — but perhaps its descendants will.