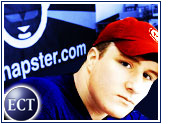 The strange saga of music swapping site Napster took another twist as media giant Bertelsmann announced it has reached an agreement to purchase the site and said most of the key executives who resigned last week will return.
The deal calls for Bertelsmann to pay up to US$8 million to the venture capitalists who backed Napster when it first emerged as an underground technology. Those backers reportedly scuttled earlier attempts to sell Napster by insisting on receiving a substantial portion of their investment back.
"Creating new ways of doing business is never easy," Bertelsmann CEO Joel Klein said in a statement. "Napster will be at the forefront of finding business models that respect copyright, reward artists and deliver entertainment value to consumers. Peer-to-peer is a transforming technology, and we're proud to have Shawn Fanning continue to work on its development."
Back on Board
Fanning, who gained cult status after he developed Napster in his dormitory room while an undergraduate student, reportedly resigned from the company last week shortly after CEO Konrad Hilbers walked out, sparking widespread speculation that the company would file for bankruptcy.
"Bertelsmann understood our vision when they first invested in us. They still believe in that vision," Fanning said. "I'm ready to work with the many talented people at Napster to complete the new service and get it off the ground.
"While this has been a very unusual week, I'm pleased that I and my colleagues can move forward and give our full attention to Napster's future," Hilbers noted.
Investment Protection
Bertelsmann has invested heavily in Napster since inking a strategic partnership late in 2000, reportedly loaning the company as much as $85 million even as Napster faced the prospect of being shut down permanently by legal challenges.
According to the media giant, four other executives who had quit will rejoin Napster, and others who had not yet left also will remain.
Still Cloudy
The deal does not rule out the possibility that Napster will seek bankruptcy protection from its other creditors and attempt to emerge with a clean slate. Such a move also would buy Napster time to complete its transition to a paid service.
In fact, analysts said, the purchase does little to clear up a cloudy future for the music swapping company. While Bertelsmann has pledged to make Napster a label-friendly forum for trading music on a pay-as-you-go basis, the site's relaunch has been delayed several times, and Napster now has been shuttered for nearly a year.
Yankee Group senior analyst Michael Goodman told the E-Commerce Times that despite the fact that nearly three-fourths of homes with broadband Web access use their computers to play music, the music industry itself has not decided whether digital music is good or bad for the industry or how it will use the Web. That leaves questions about the value of Napster long-term.
New Competition
Meanwhile, many online alternatives have sprung up, and recent studies have suggested there is at least as much illegal music swapping going on now as there was before Napster went dark last year.
"No one is quite sure what direction online music is taking overall," Goodman said. "There are all these experiments under way, but no one model that has emerged. It looks like it may be some time before that happens."