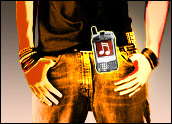 New generations of cellphones may be offering a feature that is a throwback to the analog age: FM radio. If they do, it will be because a controversial proposal gaining traction in Washington includes this functionality as part of the horse-trading.
The National Association of Broadcasters has proposed that stations pay an aggregate US$100 million a year in fees for the songs they play over the air. The proposal is tied to a requirement that FM radio be included as a mandatory feature on all mobile devices.
NAB did not respond to the E-Commerce Times' request for comment in time for publication.
The question of what — if anything — radio stations should pay in performance fees has been debated almost since the inception of commercial radio. Broadcasters have maintained they are promoting the artists' work, thus leading to more sales. Artists and the studios that produce their work, unsurprisingly, would like to receive the fees for what they see as unlicensed use.
FM radio on cellphones is something that broadcasters have angled for ever since cellphones became ubiquitous, in the hope it would increase their listening audience.
Congress would have to approve the proposal tying the fee structure to the mobile-device radio functionality mandate. Before that happens, one can expect an intense lobbying campaign against the measure on the part of cellphone manufacturers.
The Push Public Safety Model
One reason is that the justification the NAB is giving for its inclusion — public safety — is a flawed one, according to Azita Arvani of the Arvani Group.
"There are more effective ways to distribute public safety information to people via their mobile phones," she told the E-Commerce Times. "Using the FM radio pull model, people have to listen to the radio to be notified of the safety information. There are better push models, where the emergency information can be pushed to phones in affected areas, which work more effectively."
An example of this push model can be found in Japan with Docomo's Area Mail Disaster Information Service, she said.
Stiff Competition
There are competitive reasons as well, according to David Bernard, managing director of DB Marketing Technologies.
"FM Radio competes with audio streaming and music download services as a source for music," he told the E-Commerce Times.
"Depending on the handset — e.g., if it is an iPhone, Android or BlackBerry, or just a standard phone — the effect of free FM radio on the handset could be decreased add-on service usage, as in the case with cellular carriers' music services, or decreased app store revenue from manufacturer's app stores," Bernard explained.
Too Little for Too Much
Finally, there are manufacturing issues to consider, said Rita Gunther McGrath, associate professor at Columbia Business School.
"More chips add complexity, and raise potentially increased production costs. With some phones having to have as many as nine transponders to operate on different networks, adding another is a headache," she told the E-Commerce Times.
There may be technical issues with the chips interfering with other things, such as phone transmission, she continued. Also, more chips can reduce battery life and form-factor flexibility — phones would have to be heavier and possibly designed differently.
In short, "it increases cost without offering a particular competitive advantage if everyone has to provide them," McGrath said.
"What you have to remember is the golden rule in the telecommunications business is a magic number called 'average revenue per user,' or ARPU," she pointed out. "Anything that promises to increase ARPU is likely to be supported by the phone people. Anything that adds cost without generating more ARPU is apt to be fought hard."