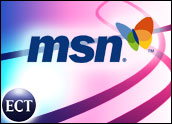 Eyeing enhancements to its instant messaging (IM) platform as it vies for users with AOL and Yahoo, Microsoft's MSN unit has purchased a firm that provides alerts through IM.
Microsoft did not disclose the purchase price for MessageCast, a privately held firm whose broadcast messaging system works with really simple syndication (RSS) to provide content feeds and let users know about the availability of new content, products and features.
MSN has worked with MessageCast since 2003, with the smaller firm's technology running behind the MSN Alerts service. The buy, Microsoft said, will enable even more features to be built into its alerts service and to extend the alerts to new content areas, notably blogs and other syndicated content.
Hooked on Alerts
Currently, the alerts service lets users know about breaking news from sources such as MSNBC and Fox Sports as well as new products and features from the likes of Microsoft's own Xbox, Hotmail and the MSN Money content channel. The alerts go to a user's IM inbox, or to an e-mail address, and can be accessed from many mobile devices.
"This acquisition is the natural progression of our relationship with MessageCast," said Blake Irving, corporate vice president for the MSN Communication Services and Member Platform group at Microsoft.
The alerts service, analysts say, has enormous potential to leverage the always-on, instant nature of the messenger platform to entice users to view more content from partners. That in turn exposes them to more advertising opportunities as well as more e-commerce opportunities.
Portals have realized that IM has hooked many users, including but not limited to younger ones, Forrester Research analyst Charlene Li said.
Li noted that AOL has made its IM platform the basis for a massive attack on the overall Internet, linking AOL Instant Messenger, or AIM, to everything from e-mail accounts to video and photo sharing and even voice chatting and VoIP.
"The portals recognize this is a communications product that ties so much of what they do together," Li told the E-Commerce Times.
All three major portals already load IM start pages with content and offer streaming news tickers, stock tickers and other real-time feeds. Opportunities abound to expand that into commerce areas, such as by alerting users immediately when a new song is available for download or when a new product goes on sale.
Beefing Up MSN
Alerts are powerful, the analyst said, because they can trigger impulse buys from interested users. They could even eventually be leveraged on mobile devices and combined with location-based services, to, for instance, alert a user of a sale in a nearby store.
MSN said it would continue to support current MessageCast customers. The firm was founded in 2002 and has ridden the boom in RSS use and the explosion of new, often hard-to-find content such as blogs and podcasts to substantial growth.
However, the main thrust of the buy appeared to be beefing up the offerings that MSN has to compete with Yahoo and, increasingly, AOL, as it moves beyond its walled-in approach to tackle the marketing opportunities on the Web as a whole.
Earlier this year, MSN Search was launched to mixed reviews, and the portal has since unveiled voice and video chatting upgrades and mobile video downloads.
Separately today, Microsoft announced plans to launch a Chinese version of MSN, forging a joint venture with Shanghai Alliance Investment to make the portal available online and to mobile users in China. At the same time, Microsoft said it would buy a Chinese firm, TSSX, whose technology will be used to deliver MSN Mobile content.