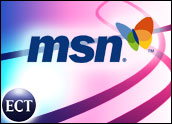 Microsoft today released MSN Spaces and Messenger version 7.0 to the public, and with new initiatives designed to connect advertisers with target customers through the services, users may get more than they bargained for.
The software company plans to integrate ads into users' personal Spaces — free Web journals, or blogs, revealed in beta form in December — and at the beginning of video chats initiated through Messenger.
"Deeper brand integration into MSN Messenger and MSN Spaces will enable our advertisers to connect with their target audiences in more creative, spontaneous and unobtrusive ways," said Joanne Bradford, vice president and chief media revenue officer for MSN.
Cashing in on Communication
U.S. Internet advertising revenue is expected to rise 25 percent to US$12 billion this year, according to American Technology Research in San Francisco. Microsoft wants to claim a larger slice of that pie after seeing its MSN division post its first profit last year thanks to more than $1 billion in ad sales.
Volvo is one of the advertisers already signed up for Spaces exposure. The company will have its own "Space" in which it will advertise its automobiles in a blog format. Volvo will also advertise its vehicles through text links and graphics at the top of users' personal Spaces.
In addition, Messenger users will now see text advertisements within the conversation window as well as in the normal half-banner on their buddy lists. MSN is also opening up its Tabs architecture to allow sponsored tabs within the client.
Every month more than 155 million active users log in to the MSN Messenger service. Bradford said she expects advertisers like Volvo, Sprite and Adidas to enjoy "higher brand awareness and favorability."
Microsoft said it expects to generate hundreds of millions of dollars in ad revenue through its various initiatives over the next few years.
Users Are Used to It
Whether users are bothered by advertisers' increasing infiltration of their personal communications space remains to be seen. One analyst told the E-Commerce Times he doesn't expect them to mind.
Jupiter Research analyst Joe Wilcox said that since most free software displays ads, he is hardly expecting a consumer backlash.
"It's pretty reasonable for Microsoft to want to make money on these services. How long can you give it away for free?" Wilcox asked. "MSN is a major division of Microsoft and it's supposed to generate profit. Right now, the main source of MSN revenue is advertising."
Personalized Community Features
Wilcox pointed out that MSN is not relying exclusively on advertising: Personalization options like Winks, Dynamic Display Pictures and theme packs allow customers to show their personality and mood with premium content from third-party providers.
For example, a customized message can include a greeting that shows the name of a song someone is listening to and, with one click, customers can go to MSN Music to purchase the song or listen to a snippet. And "gleam" notifications let friends and family using Messenger know that users have updated their blogs.
"The Internet is about sprawl," Wilcox said. "MSN Messenger and Spaces try to contain that sprawl by putting emphasis on the people you know. It's a very smart approach and it's a good way of bringing blogging into the mainstream."