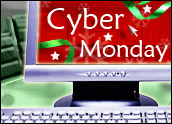 Cyber Monday online sales broke records this year, clocking in at 30 percent higher than 2011, according to IBM Smarter Commerce.
Sales are expected to reach US$1.5 billion for the day, making Cyber Monday 2012 the biggest online shopping day in history, comScore projects.
Including high online sales over Thanksgiving and Black Friday, 2012 is shaping up to be a robust online holiday season, said Jay Henderson, Strategy Program Director for IBM. "It is going to be a banner year when everyone closes the books."
Cyber Monday online sales were up more than 36 percent from online transactions on Black Friday, according to IBM. However, many of the same patterns that emerged over the holiday weekend also made an appearance on Cyber Monday.
Device Multiplicity
Mobile sales were strong, for instance, with more than 18 percent of consumers using a mobile device to visit a retailer's site. That is an increase of more than 70 percent over 2011, IBM said. Close to 13 percent of all online purchases were made on a mobile device, an increase of more than 96 percent over 2011. The iPad was a favored device for shopping, just as it was on Thanksgiving.
IBM reported that it generated more traffic than any other tablet or smartphone, on Cyber Monday driving more than 7 percent of online shopping. At the same time, a sizable number of consumers switched from one device to another.
Other measurements suggest the traffic was even greater. Adobe calculated that this year's Cyber Monday sales totaled nearly $2 billion. Mobile represented 22 percent of total Cyber Monday sales, up 100 percent from last year.
Both Adobe and IBM highlighted another trend: the relatively small role social marketing has played in overall traffic referrals. Abode put the percentage at 2 percent of total site visits on Cyber Monday. IBM had social referrals accounting for 0.41 percent of all online sales, a drop of 26 percent from the year before.
Deeper Discounts Driving the Sales
One reason for the frenzy is that retailers appeared to have held back their best promotions for Cyber Monday, Henderson told the E-Commerce Times. "There were great deals everywhere and retailers were very liberal with their offer of free shipping." That, plus the positive consumer sentiment, is what made the day such a success.
IBM didn't specifically track the discounts, but overall, they appeared to be deeper than in 2011, he said.
Certainly a cursory spin around the Internet showed that retailers meant business for the day. Savings.com picked out what it saw as the best deals, including Amazon, which was featuring up to 90 percent off of certain items; Kmart, for 75 percent off; and Walmart, up to 50 percent off.
"We are seeing a surge in online shopping and traffic as multichannel retailers and pure plays alike compete and promote heavily," Brian Walker, senior vice president at Hybris, told the E-Commerce Times.
It will be interesting to see if the trend sustains or instead was driven by the aggressive promotion, he added.
Online Shopping Is Now the Norm
Another winner on Cyber Monday was the concept of online shopping itself. Even just a few years ago, many consumers were leery of buying large, expensive items online. Now, though, it is nothing to snap up a pair of diamond earrings online.
"Habits have changed and sunk in, and the convenience of the Web and access to information is addicting to consumers," Walker said. "Traditional retail shopping is an event now, and something you have to plan for. It still has a role to play, but will compliment online versus being the main driver of the business in the near future. I think this holiday season proves that."