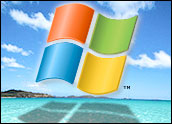 In the big scheme of things, Microsoft's third fiscal quarter for 2011 was pretty good — until, that is, one drills down and sees that its core product, Windows, delivered a disappointing performance, while recent computing developments, especially the consumer craze for tablets, are not exactly trending Microsoft's way.
In general, sales and profits for the quarter were good. Revenue rose 13 percent to US$16.4 billion and profits climbed 31 percent, to $5.2 billion. Those numbers are largely a reflection of the performance of Microsoft's reliable workhorse, Office, and Xbox Kinect.
Windows Down
Sales of the Windows operating system declined by 8 percent — a development that Microsoft executives attributed to a "mixed PC market" characterized by strong enterprise deployments of Windows 7 and emerging market growth, but lackluster consumer demand.
Other observers, though, have been more forthright in their assessment of Microsoft's situation: Tablets, particularly iPads, are eating netbooks' lunch right now.
All of which raises the question, what is Microsoft going to do about it?
"We have nothing more to share at this time about the future of Windows," Microsoft spokesperson Jackie Lawrence told the E-Commerce Times in response to a query about the company's tablet strategy. However, she pointed to publicly available information such as a webcast of CEO Steve Ballmer's keynote at the Consumer Electronics Show earlier this year, noting that it included "some demos of Windows-based tablets running Windows 7 today."
In actuality, Ballmer didn't touch a tablet during his keynote address. The only attention any tablet got was from Windows engineer Mike Angiulo, who demoed the Asus Eee Slate EP121, which does run Windows 7, for about two minutes.
For shareholders, customers and partners, that may not be enough.
Enterprises are getting into a buying mood again, and their support of Windows 7 has been strong, but that's not likely to last as tablets continue to surge in popularity and more productivity apps come to market. In short, some companies could begin to view tablets as possible replacements for laptops or even desktop computers.
OEMs not exactly lining up in support of any Windows tablet device. Nokia, for example, has been hedging about when it will develop any sort of tablet and what operating system it might run.
Microsoft has thrown out hints that Windows 8 will be tablet-friendly, but even on that score, the company has been less than forthcoming with details.
On the Sidelines
Microsoft's plan of record for the tablet market consists of its Windows Touch multitouch technology, Directions on Microsoft analyst Michael Cherry told the E-Commerce Times.
"Dell, Acer offer a tablet with Windows 7," he noted. There are significant drawbacks, though, he added.
For starters, these products are almost as expensive as a high-end laptop. That is because to run the OS the machine needs a heavy-duty hard drive that supports both wireless and cable Ethernet. Battery life can be a problem for that reason as well, he added.
Also, the OS works best with a stylus, which few people use, Cherry said.
The big picture, he agreed, is that the netbook is falling out of favor with consumers. "People are choosing tablets instead — tablets that run Android or iOS."
And that is a competition that Microsoft simply isn't winning. It's barely in the game.