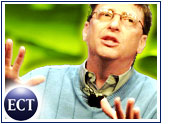 Bill and Jerry are back, and the dynamic duo's second Microsoft ad is already bringing as much divided opinion as its much-analyzed predecessor. The spot, which first appeared on YouTube Thursday night, shows Seinfeld and Gates staying with "average family" in an effort to reconnect with the common American. As far as connections to Microsoft, it inches a little closer to direct talk about the company — but still stays eccentric enough to leave many scratching their heads.
The four-and-a-half minute commercial, labeled as the "long version," has already spawned dozens of blog posts and countless comments across the Web. On the whole, the reaction appears to be less negative than what followed the first spot. Good or bad, though, one thing's for sure: People are definitely talking.
Inside the Sequel
Our sequel starts at the dinner table, where we see Seinfeld and Gates chowing down with a family of six (two parents, three kids, and a very handy grandmother). Right from the start, it's clear that the odd couple doesn't quite fit in with the suburban scene.
"I got some special mustard for you. It's got white wine in it, like the fancy restaurants have," the mom proudly boasts to Seinfeld.
The comic, of course, comes back with a quip — saying he loves "a condiment with booze in it" — which leads to an awkward silence.
Later, when Gates questions why they're conducting this strange experiment, Seinfeld comments that he has so many cars, he gets "stuck in [his] own traffic," suggesting they need to "connect with real people."
The clip ends with more smooth moves from Gates, who — after pulling off a memorable rear-end wiggle in the last ad — does a quick robot dance to give Seinfeld a signal about the high-tech developments in Microsoft's future.
Understanding the Campaign
Microsoft has indicated its campaign will eventually delve into specifics about its Windows products, including Vista, Live and Mobile. At this point, though, the company appears to be focusing still on the broad image — introducing the storylines, associating Seinfeld's trademark humor with the brand, and getting into the idea of "reconnecting." Even without a direct message being driven home, the formula represents a common marketing concept, marketers say: The ad is an "uninvited guest," and it has to deliver something worthwhile to be accepted.
"The deal is that the ad represents a kind of marketing exchange," Neal Burns, professor at the University of Texas at Austin and director of the Center for Brand Research, told the E-Commerce Times. "You give me the 30 seconds I've got my commercial on television, I'll give you a chuckle, something that you'll smile about or somehow find worthwhile," he said.
Questions of Success
Still, as with any humor-based strategy, it's not going to land with every audience every time. Particularly with the extended four-and-a-half minute version, Burns questions whether the "advertising deal" ends up being a fair trade.
"I think that the exchange is not equal here," he commented. "You're asking me to spend more time than I'm getting fun for."
Even with the buzz, Burns believes Apple's rival Mac-PC campaign comes out ahead — at least at this point.
"I don't know that [the Microsoft ad] has anywhere near the buzz that the Mac-PC ads had. It doesn't have the play and it doesn't have the exposure," he suggested.
Any ad, of course, is subjective — and only time will tell the true success of the campaign as it unfolds. In any event, though, here's hoping Gates breaks out those snazzy new Conquistadors again for the next installment. Those are some nice-looking shoes.