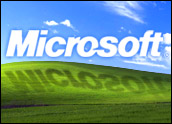 Microsoft beat sales estimates Thursday when it announced record-setting revenue levels in its fiscal first quarter, thanks in part to strong sales in the cloud-based business operations, which overcame slow growth in the PC and mobile markets.
The software giant posted net income of US$5.74 billion and earnings of 68 cents per share. That's up from a year ago, when the company reported $5.41 billion and 62 cents per share. Revenue was $17.37 billion, up from $16.19 billion last year.
Sales of Microsoft's offerings in cloud-based business applications, including Office 365, exceeded the company's expectations and contributed to the rise in profit.
Microsoft's entertainment division is also responsible for a significant part of the profit, largely due to the Xbox 360, the top-selling U.S. videogame console for nine months running. Revenue in those operations rose more than 9 percent to $1.96 billion.
Sales were weaker in the crowded mobile and tablet markets. Microsoft's smartphone platform, Windows Phone, hasn't caught on like Android handsets or the iPhone have, and every tablet that's not an iPad is scrambling for consumer attention .
Microsoft did not provide the E-Commerce Times with further comment.
Transition to Cloud
Part of Microsoft's success with Office 365 suggests it will strengthen its efforts to move into cloud services.
"Microsoft is no doubt going to continue to aggressively invest in the cloud, and 365 is a core tenet in that. It can be very additive by adding customers that didn't have access to e-mail before, such as employees on a shop floor. And Microsoft can also convert people who traditionally bought Windows as a one-time purchase to the 365 platform. They'll be saving because they don't have to deal with servers and storage, and Microsoft just created a one-time payment into an annuity stream," Brad Rebeck, analyst with Oppenheimer, told the E-Commerce Times.
The company has been relatively successful in its expansion to include e-mail collaboration and other corporate infrastructure services in its enterprise operations.
"Microsoft is in the middle of their biggest transition in 10 years, the transition to cloud services. It's changing the nature of that value that Microsoft corporate customers would get. It was starting to get shaken up a little, so the transition to cloud services is crucial so a corporate customer can invest in them for tangible things," Chris Voce, principal analyst and researcher at Forrester, told the E-Commerce Times.
Other companies haven't been able to match what Microsoft does on a e-mail collaboration level. Google is the closest emerging competitor, but for a corporate body, Microsoft is often seen as the best option.
"Google is perceived as a lower-cost option, but Microsoft needs to make it not a cost, but a feature discussion. Microsoft's done much more as a business fit and a business enabler, and there's a lot of business value that has been exchanged there. Google has a compelling service if you're just looking to give someone an e-mail address, but Microsoft has an advantage of being a better fit for the business world," said Voce.
Tough Markets
Microsoft hasn't been as successful in the crowded mobile, PC and tablet markets. While Windows still enjoys a commanding lead in market share among operating system, there's been a decrease in demand for new PCs.
"On the PC side, we're going to have to wait until Windows 8 to see if that can give them the ability to take back some of the share from Apple," said Reback.
Domestically, PC sales are relatively sluggish across the board, partly because of general economic woes, but also perhaps due to a phenomenon several tech analysts and Apple CEO Tim Cook have referred to as tablet "cannibalization," wherein consumers turn toward tablets over a traditional desktop or laptop computer.
Cook is in an enviable situation, since most of the cannibalizing is being done by Apple's tablet. But it's trouble for Microsoft and other companies struggling to market successful devices only to be trumped by the iPad.
Though Microsoft's been able to overcome losses in those departments by providing to corporate customers, the shaky economy is no guarantee that enterprise demand will always be there. As tablets become more functional for an on-the-go, multitasking business world, Microsoft will need to be a company that can straddle the line between personal consumer devices and enterprise devices.
"Any product they want to sell to enterprise has to be compelling to the individual. We've seen an evolution of people using the devices they want to for work, such as bringing an iPad or using their BlackBerry. Microsoft has to deliver something that people like and want to use at work, because we've seen that drive towards people using their personal devices for work," said Voce.