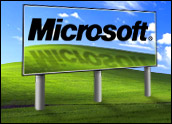 Microsoft on Tuesday launched a legal campaign against parties that register Web addresses designed to attract visitors by using trademarked terms and common misspellings of more popular domains.
The software giant filed three lawsuits this week against alleged "cybersquatters" and "typosquatters." Microsoft estimates that these types of individuals and companies are registering thousands of such domains each day, targeting it and its products and properties. The firm said its action is the first step in a broader initiative to thwart professional domain name holding operations from profiting from the misuse of its intellectual property.
"Microsoft has witnessed a virtual land rush for Internet domain names with the goal of driving traffic for profit," said Internet Safety Enforcement Attorney Aaron Kornblum, who is leading Microsoft's new enforcement campaign. "Placing a high profile or pop culture trademark in your domain name is a tempting but illegal way to generate pay-per-click revenue."
Running Up the Bill
Microsoft contends that surfing to these cybersquatting Web pages leads site visitors to a screen chock full of pay-per-click advertisements and little meaningful content. Each click on one of these ads yields a transaction that delivers revenue to the cybersquatter, paid through an online ad network.
The result is potential confusion for visitors to a trademark holder's legitimate Web sites and illegal profiteering through the misuse of a company's intellectual property, according to Ari Goldberger, a New Jersey attorney who specializes in domain name disputes.
"Companies should be concerned about cybersquatting," Goldberger told the E-Commerce Times. Goldberger himself was challenged by Esquire magazine in 1996 to give up his EsqWire.com address that plays off the familiar attorney suffix "Esq."
Reverse Domain Hijacking
Goldberger represented himself, settled the case and still uses the same domain today. Now he represents other clients in domain name disputes, whether they involve cybersquatting or reverse domain name hijacking, in which a company with a trademark on a common name sues to get a legitimate user to forfeit the domain.
"Companies that don't own common mispellings of their names are losing a fortune in traffic to these cybersquatters who own mistyped domain names — a fortune," Goldberger said. "Companies should have lots of variations on the spelling of their names, the plural version, the singular version, with and without hyphens, spellings, common misspellings, synonyms, etc."
Microsoft has legal grounds for its complaints, Goldberger said. The Anticybersquatting Consumer Protection Act (ACPA), enacted on November 29, 1999, amends the Lanham Act by adding a new Section 43(d). The law now provides trademark owners with a civil remedy against cybersquatters.
Under ACPA, cybersquatting is the act of registering, trafficking in, or using a domain name with bad-faith intent to profit from the goodwill of a trademark belonging to someone else. Typosquatting is a form of cybersquatting where someone registers a domain name of a highly visited Web site, except with typographical errors.
ACPA imposes civil liability of up to US$100,000 in statutory damages for anyone who, with a bad-faith intent to profit, "registers, traffics in or uses a domain name that is identical to, confusingly similar or dilutive of" an existing trademark.
Complaining in Court
Microsoft's two civil lawsuits target a total of four named defendants who allegedly are profiting from domain names that infringe on Microsoft trademarks. These two lawsuits include federal law claims under ACPA and the Lanham Act as well as state law claims for statutory unfair competition and common law unfair competition and conversion.
The defendants named in these actions are Jason Cox of Albuquerque, N.M., with Daniel Goggins of Provo, Utah, and John Jonas of Springville, Utah, d/b/a Jonas and Goggins Studios and Newtonarch; and Dan Brown, of Long Beach, Calif., d/b/a Partner IV Holdings.
Microsoft is also taking action to unmask defendants who have used privacy protection services to conceal their identities. This can be challenging, Kornblum said, because some domain registrars have created services that protect the registrants' personal information at a minimal cost.
To uncover those identities, Microsoft is filing a John Doe lawsuit aimed at identifying cybersquatters and typosquatters who have used privacy protection services to conceal their identities.
Halting Online Auctions
Lastly, Microsoft is working to aggressively halt online auctions of infringing domain names. With increasing frequency, people purchase a domain name and, if it generates a compelling amount of traffic, resell the domain name for a profit. To address the problem of domain auctioneering, Microsoft will expand its systematic searches of such auctions and seek to have them removed from the auction Web site.
"Microsoft hopes to help Web surfers reach their intended Internet destinations," Kornblum said. "Where you cross the line is when you misuse someone else's intellectual property in your domain name. Microsoft is aggressively targeting those who misuse Microsoft's intellectual property for monetary gain."