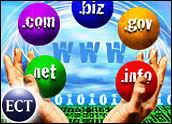 It's getting harder and harder to find a marketable dot-com domain name and that's starting to worry Web developers, according to Dotster.
The Vancouver, Wash.-based provider of domain name registration and hosting services contends that developers are concerned about running out of marketable dot-com names completely.
To date, over 70 million dot-com names have been purchased, and most, if not all, one word domain names have been taken on a global plane, the company said in a statement.
"The shortage of marketable domain names has led consumers to select alternatives that are difficult for their potential visitors to remember, or do not adequately describe the brands," it noted. "These domain names result in a lack of robust traffic to the site, confirming customers' insecurities about the value of creating Web sites."
Explosive Growth
The anxiety over the availability of dot-com names stems from the extraordinary interest in the domain over the last four years, Dotster Vice President for Marketing George DeCarlo maintained.
From 2002 to 2004, dot-com registrations increased at a steady clip of 4 to 5 million new names a year. That doubled in in 2005 to 8 million, and DeCarlo predicts it will double again in 2006, or balloon by 16 million over 2005.
"The growth rate of people registering dot-coms has just skyrocketed," he told the E-Commerce Times.
"There's definitely a shortage of usable domain names in dot-com," Antony Van Couvering, a principal in Names@Work, an Internet consulting in New York City, told the E-Commerce Times.
"If you want to go to a different extension, there are plenty of names," he added. "But because people normally put dot-com at the end of whatever they hear, that's what most people want to have."
Finding What They Want
If people are concerned about getting a good dot-com name, it hasn't deterred them from adding more monikers to the domain.
"We're seeing healthy growth in the dot-com and dot-net names," Jill McNabb, senior manager in the naming services group for VeriSign in Washington, D.C., told the E-Commerce Times. VeriSign manages the dot-com and dot-net for the overseer of Internet domains, the Internet Corporation for Assigned Names and Numbers (ICANN).
"To me," McNabb continued, "that's evidence that domain name registrants are finding names that they want, and they're registering those names.
"In addition, they're renewing their names at a healthy rate as well, which, to me, is another indication that they're pleased with the names they're finding," she added.
She noted that the current renewal rate is 76 percent. "That's the highest that it's ever been," she said.
Better Service
She commented that sellers of domain services, like Dotster, have helped relieve the crunch on dot-com names by introducing innovative products, like name-suggestion engines, and alternative domain options, such as dot-biz or dot-info.
DeCarlo, of Dotster, added that his company has improved its domain search capabilities by allowing users to simultaneously check multiple proposed domain names.
Dotster's suggestion engine, he continued, draws from the pool of expired domain names as well as proposing names from other domains.
Low-Number License Plates
For searchers who want to use generic words in their domain name, DeCarlo recommends looking into country domains. "VC is an example of a TLD [Top Level Domain] that has plenty of generic words available in it," he observed. VC is the domain for Saint Vincent and the Grenadines.
Country domains are also a good way to get the Internet equivalent of a low-number license plate — three and four-letter domain names.
All the three-letter dot-com domains are gone, DeCarlo said, and of the some 456,000 four-letter combinations, only 97,000 remain.
What the shortage in usable dot-com names has done is create an aftermarket in domain names, maintained consultant Van Couvering. "A lot of names have been registered now once or twice and are simply passed from one party to another on the basis of a sale," he said.
"From a real estate standpoint, domains are only going to continue to increase in value, especially as the scarcity of names drives the value of existing domains up," added Dotster's DeCarlo.