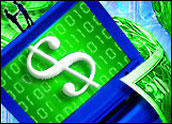 Microsoft earlier this week unveiled a new feature that gives instant rebates to some consumers who use its Live Search Cashback program to buy items from eBay.
Usually, consumers must wait 60 days to get their rebates. In a blog post on Monday, Microsoft Group Product Manager Kok Waii Wong detailed the new feature: "When we asked users about the improvements they'd like us make to Live Search cashback, many said they want to receive cashback instantly instead of waiting for 60 days. Well, I'm happy to announce that we've just released the Instant cashback feature with eBay. Instant cashback will be eligible for some, but not all users. Eligible shoppers will be notified online after completing a purchase on eBay."
Black Friday Glitch
The announcement of the new speedier payment feature came on the heels of a Black Friday fiasco, when the Live Search Cashback service became a source of severe frustration for many of its users. First, a huge spike in Web traffic caused it to go down for several hours, depriving many consumers of the opportunity to take advantage of a joint Microsoft-HP promotion: a 40 percent discount on desktops, laptops and other products purchased at HP's online store.
Second, many of those who were able to access the promotion received a surprise of their own: They were given just a 3 percent discount on the HP items they purchased. Microsoft was flooded with complaints.
In response, the software giant has set up an online process that allows consumers who made purchases via the promotion to apply for their full 40 percent discount.
Microsoft's Mea Culpa
Microsoft could not be reached for comment.
The company sought to reassure consumers in a blog written by Microsoft general manager of worldwide commercial search, Rajat Taneja.
"The downtime was partly related to investigating the issue and partly to rebuilding and redeploying the databases and indexes that support Microsoft Live Search Cashback," Taneja wrote. "The issues that caused Friday's problem have been resolved. We're confident we won't have further problems. We apologize for the inconvenience."
Not Yet a Success
Launched six months ago, the Microsoft Live Search Cashback program has yet to make a significant impact on Microsoft's market share in search, said Matt Rosoff, an analyst with Directions on Microsoft.
"Certainly, (the Black Friday glitch) doesn't help. It's an interesting idea that hasn't achieved the goal that Microsoft wanted it to achieve," he told the E-Commerce Times.
However, some people are participating in the Cashback program, and it may just need more time to grow, Rosoff said.
Despite the amount of negative press Microsoft has received over the Black Friday glitch, the company's online services are actually getting better, he noted. "They've had outages in other online services before, but they've been pretty good lately. I remember I used to get Hotmail failures and Passport failures all the time."
Trouble Will Blow Over
The Black Friday glitch will soon be forgotten, predicted Rosoff.
"I don't think it will have a huge effect on Microsoft's image because they're such a big company," he said. "This is a relatively small product that Microsoft offers — it's not like a bug in SQL server or Windows, which affect tens of millions or hundreds of millions of users."
The fact that Microsoft has promised to make good on the 40 percent discount offered through the Black Friday promotion with HP could serve to ameliorate perturbed consumers.
"The credibility question probably doesn't come up because they are fulfilling their promise," Sid Parakh, an equity analyst at McAdams Wright Ragen, told the E-Commerce Times. "There will probably be the usual 60-day waiting period. The amount is credited to your account, but [consumers] can't use it for 60 days. That's the way Cashback is set up."