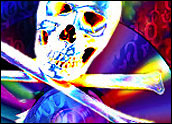 Continuing its aggressive campaign to cut down on piracy of its products,Microsoft has filed eight lawsuits againsteBay sellers, accusing them of distributing counterfeit versions of the software giant's programs.
The suits were filed against individuals in Arizona, Connecticut, Florida, Hawaii, Massachusetts, Nebraska, New York and Washington. They are an effort to crack down on the amount of piracy taking place onInternet marketplaces, where Microsoft said counterfeit product "abounds."
Cracking Down on Illegal Sales
"Online auction sites are an excellent way for people from around the world to buy and sell goods," said Matt Lundy, an attorney at Microsoft working on the cases. "We strongly believe in the convenience and global reach of the virtual marketplace. Unfortunately, a number of online sellers are undermining trust in the system by using the Internet to hawk illegal products to unsuspecting consumers.
"By filing these lawsuits, we hope that auction purchasers will understand that software offers are not always what they appear to be," Lundy added.
Many of the suits were sparked by the company's Windows Genuine Advantage (WGA) program, a program launched last year to let buyers of software determine whether it is properly licensed. Buyers who learned their programs were not genuine then helped Microsoft by providing information on the sellers.
The suits do not name eBay as a defendant and Microsoft indicated that it has received extensive cooperation from the auction giant in the past as it tried to ferret out piracy. In fact, Microsoft said it asked eBay to remove some 50,000 suspicious auctions during 2005 alone.
Tip of the Iceberg
The suits are mainly against individuals and cover alleged counterfeit sales of several Microsoft programs, including Windows and Office XP and older versions, such as Office 2000. It isn't clear how many copies of each program Microsoft is claiming were sold, but the suits seek cease-and-desist orders as well as restitution.
By its own admission, Microsoft is unlikely to significantly dent the software piracy industry with lawsuits against individuals. The Business Software Alliance (BSA) said that 21 percent of all software sold in the U.S. last year was likely pirated.
The problem is much more severe overseas, with some countries believed to have as much counterfeit software in use as they do legitimate programs.
The BSA estimates that worldwide, 35 percent of software in use is not authorized or properly licensed, with the software industry suffering some US$33 billion in annual losses as a result.
Everyone Loses
Microsoft has waged its anti-counterfeiting campaign as a crusade to protect consumers, noting that those who buy the illegitimate programs are not entitled to the same protections, guarantees and technical support as those who buy the real deal. It has also argued that legitimate channel resellers, PC makers and other partners are hurt by the software pirates.
Piracy is becoming more dangerous for end-users, in fact, with hacked or illegal versions often containing malicious code that can be used to infect PCs with viruses or to install Trojan horses that can be used to steal private data, Yankee Group analyst Laura DiDio said.
"Piracy isn't just about lost revenue for software makers," she told the E-Commerce Times. "Businesses and individuals rely on their software, and there is significant risk for losses from piracy."
Still, there's little question that Microsoft's bottom line is damaged by the piracy, since a single fake program may be deployed in numerous machines, depriving Microsoft of significant licensing revenue.
That fact may be coming into even more sharp relief as Microsoft prepares to launch Windows Vista, the first new version of its flagship operating system in several years and one that could help drive growth for Microsoft and the PC industry as a whole over the next year to 18 months.