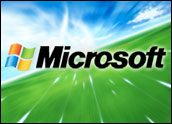 Microsoft may have set its acquisitive sights on Yahoo, but that apparently doesn't mean it's neglecting its own digital advertising platform. In fact, the company on Tuesday demonstrated seven new technologies from Microsoft adCenter Labs.
Included among the technologies Microsoft unveiled were algorithms in content analysis and computer vision for video and images, speech recognition for contextual video ads, and marketing intelligence that enables enhanced audience insight and better targeting capabilities for advertisers.
"We believe the technical advances and intelligence we are creating at adCenter Labs can change the game of online advertising," said Tarek Najm, technical fellow at Microsoft.
"Solutions to today's challenges must be capable of handling and understanding the complexity of vast amounts of data," Najim added. "To address that challenge, we are developing advertising algorithms that can anticipate and understand consumer behavior faster than the speed of thought, so that we can help advertisers create more efficient and relevant user experiences."
The 'Fourth Screen'
"Air Wave" is the name for Microsoft's new technology to create a "fourth screen" experience beyond the TV, PC and mobile phone that allows advertisers to engage consumers in public places such as airports or shopping malls. The technology uses an interactive, multitouch screen display to let consumers play games or interact with advertisements to receive coupons or product information, for instance. With the help of a webcam, consumers can even try on products such as sunglasses virtually, Microsoft said.
Microsoft's contextual ad technology for video, meanwhile, uses speech recognition to enable ads to be dynamically served based on the content discussed in the video. That way, ads related to gardening or lawn improvement could be served adjacent to a video about gardening, Microsoft said.
Another technology Microsoft demonstrated Tuesday uses a computer vision algorithm to approximate human judgment in deciding the least intrusive spot in a video in which to place ads.
Screening Out Porn
A visual product browsing tool, meanwhile, uses computer vision algorithms to browse and categorize images as a human might, without the need for manual data tagging. Such technology could help online shoppers visually browse categorized images of products such as lamps and narrow their search to find "more like this" options through physical and visual characteristics such as the product's height, depth and width.
Microsoft's new content analysis engine automatically extracts and categorizes information from search queries and Web pages to better understand user intent and minimize search engine marketing complexity. Accordingly, it could help search engine marketers discover valuable keywords relevant to their category or bid on categories, such as digital cameras, instead of managing each individual keyword associated with a category.
A new content detection technology identifies sensitive content advertisers would not likely want to be associated with — pornography or weapons, for example — and automatically blocks contextual ads related to that content.
Finally, a new adCenter dashboard gives marketers access to analytics and advanced algorithms that are tied to actual data sets from adCenter to help them maximize the effectiveness of their search marketing campaigns.
Which Platform Will Survive?
With aQuantive and one of the largest online publishing operations on the Web, Microsoft's portfolio "puts it in a position to look at what's lacking technologically on the ad-serving side," Harry Wang, a research analyst with Parks Associates, told the E-Commerce Times. "The technologies they've been demonstrating, including contextual ads, are definitely helping advertisers to identify the right type of audiences and understand consumers' consumption traits online in real time so that they can place the most appropriate ads alongside content."
Given Microsoft's proposed US$44.6 billion bid to acquire Yahoo, however, it's not clear how its digital advertising plans might proceed if the acquisition goes through.
"Assuming the acquisition goes through, which is a reasonable assumption, one of the central questions is, whose platform will survive?" Greg Sterling, founder and principal analyst with Sterling Market Intelligence, told the E-Commerce Times.
The 1,600 Pound Gorilla
Microsoft has talked about wanting a single platform in the long run, and "to me, that directly implicated the two ad platforms," Sterling said. Yet Yahoo's Panama platform has more advertisers, so "this is an example of the larger conundrum for them," Sterling explained.
Specifically, "do you risk migrating Panama advertisers to adCenter and losing some, with the inevitable glitches that arise in such a transition, or do you walk away from this effort that has been such a tremendous focus and investment?" he said. "I think it's a very difficult question, and it's a metaphor for the whole problem they face — where to place bets, where to take risks, when to walk away from traffic or customers."
Of course, whichever platform ultimately survives, Microsoft and Yahoo are both "lagging far behind Google in the search area," Wang noted. "I think this is them joining hands to counter the 1,600-pound gorilla. With that kind of threat, there's no way for them to go it alone."