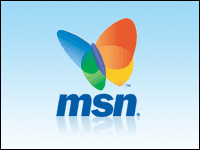 Microsoft launched a beta version of a new celebrity gossip site Thursday called "Wonderwall.com."
The new site is loaded with pictures of celebrities that visitors can click on to read news stories, features and commentary about the stars.
For example, Wonderwall.com on Thursday displayed a zany photo of "The Dark Knight" actor Christian Bale wielding a knife, which, when clicked on, led to a story about the top 10 celebrity meltdowns caught on video and audio.
Bale and other celebrities such as "30 Rock" actor Alec Baldwin, Michael Richards of "Seinfeld" fame and eccentric actor Gary Busey could be seen and heard profanely berating those around them.
Another photograph with heart throb Ashton Kutcher and actress Demi Moore led to a story with a list of celebrities who can be found blogging on social networking site Twitter, including pop singers John Mayer and Britney Spears and comedic actress Tina Fey.
Microsoft's stock closed up 2.2 percent at US$19.04 on Thursday.
Complements MSN Entertainment
The new site is designed to complement Microsoft's already substantial coverage of the celebrity and entertainment scene through its MSN portal.
"MSN Entertainment encompasses all things entertainment, such as movie reviews, show times, TV listings and much more," said Karin Muskopf, a senior product manager at Microsoft.
Wonderwall, on the other hand, is totally dedicated to all things celebrity, she told the E-Commerce Times.
"Wonderwall will include the latest information and photos from leading celebrity and paparazzi agencies, original editorial content created by the Wonderwall editorial team, and video content from MSN content partners including Access Hollywood and Extra," Muskopf said.
Crowded Segment
Microsoft is just one of many players attempting to tap into the celebrity gossip market.
"Wonderwall is just a way for Microsoft to broaden its appeal to advertisers and users," Colin Gillis, managing director of research at TheStreet.com, told the E-Commerce Times.
Gillis pointed to gossip sites such as AOL's TMZ.com and Yahoo's OMG as examples.
"This new site isn't going to cut it," he said. "It's not going to get them anywhere in this space, and I don't think it's going to be meaningful to Microsoft in any real way."
Although Microsoft has tried to draw a distinction between MSN Entertainment and Wonderwall.com, that distinction is not clear to Gartner analyst Andrew Frank.
"I'm not clear where Wonderwall.com fits into MSN Entertainment," Frank told the E-Commerce Times. "I see it's linked to [MSN Entertainment], but it just seems like more inventory to me."
Too Many Online Ads?
More ad inventory is not what the Internet needs, Frank said.
"If anything, there is a surplus of online advertising right now," he said. "I guess Microsoft thinks they can get traffic from more established celebrity gossip brands. One thing about celebrity gossip is that it is evergreen in the sense that it's a category that consumer packaged goods companies can buy, as opposed to a financial services or automotive site. It attracts the sort of audience you want if you're Tide detergent."
Microsoft has thus far disclosed just one major Wonderwall.com advertiser: Kraft'sCrystal Light.