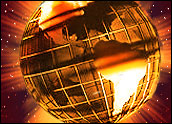 Live Earth — a series of nine concerts held in cities across the world and streamed live across the Internet — exceeded its founders' most ardent expectations.
The event, held to raise awareness of global warming and climate change, drew in more than 10 million video streams, and had the most simultaneous viewers of any online concert ever, according to Microsoft's MSN unit.
"History is being made today," Joanne Bradford, corporate vice president and chief media officer of MSN, stated. "The over 10 million streams MSN has delivered so far today represent a milestone in live Internet broadcasting."
Hot Event
For a music aficionado, Live Earth was a must-see event. The concerts were held in New York, London, Sydney, Tokyo, Shanghai, Rio de Janeiro, Johannesburg, Hamburg and other locales, and beamed live from the venues around the world over Microsoft's MSN network.
Among the 100-plus acts were the Police, Genesis, Bon Jovi, Madonna, Kanye West, Kelly Clarkson, Black Eyed Peas and Jack Johnson — in other words, something for almost everyone. MSN was the exclusive online media partner for Live Earth, deploying its streaming video technology and infrastructure to allow people to watch the live online feeds or recorded footage from earlier performances from all the concerts.
With the concerts over, MSN expects the number of video streams to continue as more people log on to see on-demand footage of the performances, along with artist interviews and backstage action.
10 million and Counting?
If the goal of the concert organizations was to raise awareness of the dangers of climate change through sheer volume of watchers and attendees — and it was — then organizers definitely met their goals.
However, few details have been released about the size of the audience overall — other than MSN's 10 million count — or how much of the concert fans actually tuned in on.
"When it comes to webcasting, what is important is not the quantity of the viewers but the quality," Dan Rayburn, executive vice president ofStreamingmedia.com and author of the Business of Video blog, told the E-Commerce Times.
"I am not saying they didn't get 10 million stream requests, but the information MSN has provided is very vague. You can't even tell if those stream requests are unique requests or include people who watched multiple streams," he remarked.
This issue is not unique to MSN — or to Live Earth, for that matter. "There is a woeful lack of metrics or benchmarks in the steaming video industry," Rayburn explained. "That makes it difficult to quantify to customers how a webcast can add value to its operations."
Part of the problem behind the lack of benchmarks is that streaming video providers do not even publicize routine data about the event, he continued. Data such as the average length of time somebody watched a stream and how many times the person watched the stream would be invaluable in judging how successful Live Earth really was.
In his blog, Rayburn lists other questions he would like to see streaming video providers answer, including the following:
How many total stream requests did you fullfill?
How many unique streams did you serve?
What percentage of traffic came from what regions of the world?
What was the average bitrate that someone watched?
These are "very easy questions," he wrote. "Basic. These are the same questions that all customers ask their stream hosting provider after an event, and [they get] exact figures."
Still Good
Still, Live Earth undeniably has something to crow about with its performance in the fledgling live streaming space, emphasized Paul Palumbo, an analyst with Accustream Research.
"Ten million is a lot," he told the E-Commerce Times. "Live Aid did eight million; a few years ago, Madonna got five million."
One reason for the numbers, he said, is the mere fact that Live Earth was a music event. "Music is the most popular video content category online. Typically it is a shorter-form content, but something like Live Earth — a global event that has a lot of publicity — is bound to do well."