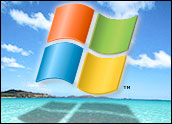 Microsoft is making Windows 7 available as a public beta on an unlimited basis following a surge in demand that crashed the site after it first posted the code.
Microsoft had originally planned to roll out the Windows 7 public beta on a limited basis; initially, it was to have become available to the first 2.5 million users for a period beginning last Friday and extending through Jan. 24.
When the site went back up a day after the crash, Brandon LeBlanc, Windows communications manager on the Windows client communications team, addressed irate users in a blog, saying that the limit on the number of downloads had been removed.
Now, anyone can access Windows beta 7 through Jan. 24, with no cap on the total number of downloads.
"Due to an enormous surge in demand, the download experience was not ideal so we listened and took the necessary steps to ensure a good experience," LeBlanc wrote.
As with previous betas, Microsoft is making Windows 7 available in download-only format — it is not sending out physical media. It is available in 32-bit and 64-bit versions.
In other ways, however — starting with the removal of the cap — Microsoft appears to be following a different playbook this time.
Vista, it is largely acknowledged, fell far short of expectations both in terms of features and in the number of glitches that have plagued the operating system. Redmond's goals, it appears, coincide with one of these story lines: a) For those users still clinging to XP, give them enough support so they won't jump to another system; or b) For Vista haters who have already migrated and wished they hadn't, roll out Windows 7 as soon as possible. Also, make the introduction process as painless as possible.
Mistakes Were Made
Microsoft has been contrite about Vista's failings in public comments and blogs — at least, as contrite as it seems possible for it to be, Charles King, principal with Pund-IT Research, told the E-Commerce Times.
"They have admitted problems exist with Vista, particularly with compatibility, and they are moving forward aggressively to ensure that these problems don't happen again," he said. Microsoft is also incorporating features in Windows 7 that are deemed either weak in Vista or missing altogether — another nod to the legions that have been critical of Microsoft's most recent OS.
Windows 7, based on previews of the application, promises to refine certain aspects of the Vista. It gives users more control over Vista's User Account Control feature, for example, while improving performance. It also is supposed to be lean enough to run on netbooks, a rapidly growing computer category.
"The basic message is, 'We learned from mistakes, it won't happen again, now let's move on to Windows 7,'" King said. "It's a very pragmatic approach and the best approach Microsoft could be taking at this point."
General availability for Windows 7, which is still on track, according to Microsoft, is slotted for early 2010.
Competitive Factors
Even if Vista had been a success, Microsoft would likely have been forced to change its marketing strategy, Scott Testa, a professor at St. Joseph's University, told the E-Commerce Times.
"Traditionally, Microsoft has released its applications in baby steps, pushing it out gradually to developers in alphas and betas. Once they have a good sense that it is stable, then they start rolling it out through the channels to end users."
Clearly, Microsoft now wants to speed up that process, he said, and get Windows 7 into the hands of end users — not only to erase the bad taste from Vista, but also to pre-empt competitive offerings from Google and other vendors, he said.
"There is a mindset there now that the traditional marketing channels in the software world are starting to change," Testa observed. "There are companies like Google which are launching a variety of products quickly and just as quickly incorporating user feedback."
This rollout will be a turning point for Microsoft, Testa predicted, with future rollouts taking place faster than in the past.