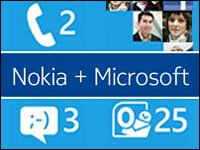 Microsoft's ambitious US$7.4 billion acquisition of Nokia's mobile business is set to close Friday.
There have been some minor changes to the deal since its announcement, Microsoft General Counsel Brad Smith said in a Monday blog post.
The original deal did not address the management of online assets, for example. The two companies have agreed that Microsoft will manage the Nokia.com domain and social media sites for the next year.
Under the original deal, employees in Nokia's chief technology office would continue with Nokia. The agreement has been adjusted so that 21 Nokia employees working on mobile phones in China will join Microsoft.
The original deal also called for Microsoft to acquire Nokia's Korean manufacturing facility, which has been excluded from the new deal.
A Global Tour of Regulatory Authorities
Some of these changes presumably resulted from the global regulatory approval process the deal had to undergo.
Earlier this month, for example, Microsoft announced it had gotten approval from China's regulatory authority for the deal.
In exchange for the approval, Microsoft promised to honor fair, reasonable and non-discriminatory (FRAND) patent licensing principles for at least eight years and make nonexclusive licenses available for Android smartphones, many of which are developed in China.
In the end, these particular requests were not significant hurdles for Microsoft and Nokia, both of which had maintained from the start they would adhere to FRAND principles.
The Big Picture
With the world's regulatory authorities satisfied and having signed off on the transaction, Microsoft can turn its attention to its original goal: to accelerate market adoption for Windows Phones via Nokia's mobile business.
In theory, it is a good plan and worth the $7.4 billion gamble Microsoft is taking, said Charles King, principal analyst with Pund-IT.
"One of the problems that Microsoft has run into with Windows Phone is that handset manufacturers tend to be very mercurial in the platforms they adopt and support," he told the E-Commerce Times.
"Going through the cost and effort of launching a phone on a new platform, only to have a partner vendor abandon the platform after a few months, is costly and frustrating to a company like Microsoft," King pointed out. "By investing in Nokia, Microsoft will have a stable platform to use to press the case for Windows Phone."
It is a more sustainable business model than its current one for Windows Phone, King added.
The Tactical Problem
A more worrisome aspect of the venture is the tactical issue of operating Nokia as a profitable entity.
"Whether or not Nokia can be operated profitably is difficult to say," remarked King. "Nokia went from being one of the most dominant handset companies to running to catch up with other manufacturers in a short period of time, and it is not clear to me whether Microsoft has the skills and the wind behind it to reverse that trend."
On other hand, Microsoft is hugely profitable.
"If anyone has $7 plus billion to throw at a problem it would be Microsoft," King suggested.
A big investment might not ensure success, however.
"Acquisitions usually follow the 90-10 rule, in which 90 percent of all acquisitions fail and only 10 percent succeed," Laura DiDio, principal of ITIC, told the E-Commerce Times.
Just because Microsoft is big and well funded doesn't mean the Nokia acquisition will succeed. After all, Google sold off the Motorola Mobility component of its business after 13 months, she pointed out.
Even if it works on a business level, Microsoft has a long uphill road ahead of it in terms of repositioning its platform, which has been overshadowed by Android and iOS, DiDio said.
"They are going to have to market the heck out of Windows Phone," she maintained. "They will have to change people's perspective about Windows Phone."