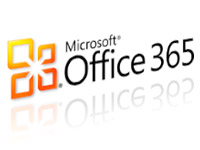 Microsoft and GoDaddy on Tuesday announced they were partnering to market Microsoft's Office 365 to GoDaddy's 12 million small business users. GoDaddy's small business users can attach Office 365 to a domain name and get access to cloud storage and Microsoft's productivity suite. 24/7 live customer service is part of the package.
Launched in 2011, Office 365 is a cloud-based app that supports email, shared calendars, instant messaging, online conferencing and access to Office documents. The product has been well received since its debut, and Microsoft now is trying to step up its adoption further.
On a Tear
"Office 365 is Microsoft's fastest-growing commercial product ever," said a Microsoft spokesperson in a statement provided to the E-Commerce Times by PR representative Ronnie Martin. "In fact, the Office 365 business is now on a US$1.5 billion annual revenue run rate, and one in four of our business customers now has Office 365."
With 12 million small business users, GoDaddy offers a prime opportunity, despite the proliferation of alternative low- and no-cost productivity suites.
In general, Microsoft's partnership strategy has been working, said Charles King, principal analyst with Pund-IT.
"Initially, the company was offering it through its own hosting mechanism, but over time it came to realize that for Office 365 to achieve full market penetration in various markets, partnership was the way to go," he told the E-Commerce Times.
"GoDaddy has developed a pretty solid footing with many small businesses, and being able to offer Office 365 will benefit it as well," King continued, noting the strength of the Microsoft brand. "Offering a cloud-based version is in keeping with GoDaddy's business model."
The brand appeal cuts both ways, observed Laura DiDio, principal of ITIC. "Everyone knows who GoDaddy is," she said, "and 12 million potential customers is a very desirable target audience."
Pushing Back
The partnership also reflects Microsoft's efforts to push back against Google's threat, DiDio continued. For decades, Microsoft was the go-to software provider for small businesses until Google entered the fray with its free online productivity offerings.
More than likely some, if not most, of GoDaddy's small business customers are using some of Google's vast offerings, DiDio said, "but that doesn't mean Microsoft can't stem the tide."
Office 365 is more robust than free online offerings, DiDio said. Once users get hooked on Office 365, they may want to migrate all of their operations to the suite.
"Google doesn't give you all of the features that you get with Office 365," she pointed out, and "there is no such thing as a free application — you pay for it one way or another."
The Service Issue
The lack of service and support is one way users of Google's "free" productivity apps pay. "I would say that is a big missing component with Google in fact," remarked Didio.
Another is indemnification. Microsoft indemnifies users that buy its certified licensed products, she said. "That is a huge deal when something goes wrong."
Security can be added to that list as well. Microsoft boasts of its high security creds in Office 365, noting that it includes built-in features that deflect malware, spam, phishing attacks and other threats.
The Deal
The Microsoft-GoDaddy plans consists of three packages: Email Essentials, starts at $3.99 per user per month for 5 GB of email storage and 2 GB SkyDrive Pro storage; Business Essentials starts at $8.99 per user per month for 50 GB of email storage and 25 GB of SkyDrive Pro storage; Productivity Plus starts at $12.49 per user per month for 50 GB of email storage and 25 GB of SkyDrive Pro.
Productivity Plus also offers Office Mobile Apps for iPhone, Android and Windows Phone, and Microsoft's Office desktop apps for up to five PCs or Macs.