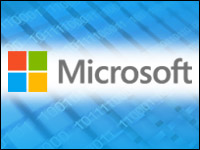 Microsoft on Thursday announced revenue of US$18.53 billion and net income of $5.24 billion for its first quarter of 2014.
The earnings, which outperformed what analysts had been expecting, were driven in large part by strong sales of Office and the company's server software. They came in spite of the company's search for a new CEO and its larger push to reinvent itself.
"We saw strong focus across our teams, generating record first-quarter revenue even as we navigate a fundamental business transition," said Amy Hood, chief financial officer at Microsoft. "Our enterprise renewals were very healthy and our devices and consumer business continued to improve."
Hood also noted that the company is making "strategic investments in areas like technological innovation, supply chain management and global cloud operations to build for the future and create long-term shareholder value."
A Microsoft spokesperson was not immediately available to provide further details.
Breaking Down the Numbers
Hood's comments all point to robust corporate client activity, and a breakdown of the earnings further illustrates that notion.
Microsoft's devices and consumer revenue grew 4 percent to $7.46 billion for the quarter, while Windows OEM revenue declined 7 percent.
Surface revenue grew to $400 million with sequential growth in revenue and units sold over the prior quarter, and search advertising revenue grew 47 percent, driven by an increase in revenue per search and volume.
For shareholders, additional numbers worth watching are the company's gross margin, operating income and diluted earnings per share, which clocked in at $13.42 billion, $6.33 billion and $0.62 per share, respectively.
"Revenue growth was especially strong in Microsoft's enterprise software offering segments, which includes their cloud computing efforts," Covestor model manager Barry Randall of Crabtree Asset Management told the E-Commerce Times.
Meanwhile, "the company's core PC software business continued to decline, largely because of the rise of the tablet form factor, where Microsoft is merely one of several players," he said.
The good news is that the rate of decline has slowed and the company used the word "stabilization" to describe the current PC environment, Randall added.
The Microsoft Consumer
Indeed, none of this is to say Microsoft has lost the battle for consumers' hearts and minds.
For example, Microsoft's Xbox One is already sold out on preorder, Dan Roche, vice president of marketing at TalkPoint, pointed out.
Also, "they seem to be refocusing their consumer hardware efforts with the pending release of the Surface 2," Roche told the E-Commerce Times. "There hasn't been a lot of news following their purchase of Nokia, but one has to assume that they are looking to focus on becoming a bigger player in the mobile market."
The impact of the Nokia's handset business has yet to be felt, Randall suggested, although he also acknowledged it would be a good move for the company in the long run, if played correctly.
"Most of Microsoft's largest competitors, including Apple, Amazon, Google and Samsung, are themselves trying to create complete hardware/software platforms," Randall said.
Future Trends
Overall, the numbers are good for Microsoft, Randall opined.
"It's impressive that a company as large as Microsoft can grow its revenue by 16 percent annually and be amazingly profitable doing so," he said. "Outgoing CEO Steve Ballmer is handing his yet-to-be-found successor a well-oiled machine."
What that successor does — or doesn't do — with that machine, however, is what has investors on edge.
"One of the biggest variables in Microsoft's near future is the pending departure of Steve Ballmer," Roche noted.
"While many have felt this is long overdue, this creates an uncertainty that is also a great opportunity to push Microsoft forward," Roche concluded. "This earnings announcement, coupled with many of the changes underway, bodes well for Microsoft to push its innovation."