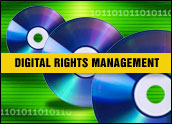 Facing potentially negative implications for its Zune music service and player, Microsoft has filed a federal lawsuit against a group of hackers who allegedly infiltrated its digital rights management (DRM) technology. The software giant claims the defendants gained access to its proprietary source code.
The suit was filed last Friday in district court in Seattle. It offered the fictitious name "Viodentia" as the ringleader of a group of "John Does" Microsoft is charging with the alleged intellectual property assault. Microsoft claims more than US$75,000 in losses and seeks restitution and a permanent injunction against the defendants.
Microsoft did not immediately return calls seeking comment.
Battling Hackers
The brewing scandal started last month, when a program called FairUse4WM appeared on the Internet. The software erases Microsoft's DRM technology from songs downloaded through major subscription services like Yahoo Music and Napster.
Microsoft is suing for copyright infringement based on FairUse4WM's use of code from its Windows Media software development kit (SDK) version 9.5. Software developers use development kits to build applications that work with other programs.
Microsoft battled the hackers with two successive patches designed to disable the tool before filing the lawsuit. The first patch was initially successful, but the hacker usurped the fix, according to Microsoft, and continued its campaign.
Hacker Talks Back
Viodentia denied using any copyrighted Microsoft code in a Web posting early Wednesday morning. The hacker also boldly released another version of his tool.
"FairUse4WM has been my own creation and has never involved Microsoft source code," the developer wrote. "I link with Microsoft's static libraries provided with the compiler and various platform SDK files."
Microsoft is hoping Internet Service Providers (ISPs) will help identify the hackers. Microsoft reportedly intends to approach the ISPs to investigate Web sites where the original FairUse4WM tool was released in an attempt to reveal the IP address or other digital evidence that might lead to members of the group.
Zune Implications
This is not the first time a DRM system has been hacked. Apple has been on the receiving end of well-publicized breaks in the past. However, with Microsoft's competing Zune MP3 player scheduled to launch soon, the timing of this hack is potentially detrimental.
"If Zune weren't about to come out, I'm not sure Microsoft would have put the resources behind it given all the other fires it's fighting with Vista and Xbox activity. Microsoft doesn't have a lot of resources to squander," Richard Doherty, an analyst with Envisioneering Group, told the E-Commerce Times.
It's not likely that Microsoft will catch the hackers, but Microsoft has to give it a solid attempt because it needs clear skies for the Zune launch, Doherty continued. One thing is certain: If the music industry gets the impression that Zune is not a safe place to store music, then there might be trouble in MP3 paradise for the software giant.
A Badge of Honor
The viral nature of Zune — each user can share music with a friend who can play it up to three times for free — could put recording industry music libraries at risk for widespread exploitation, Doherty noted.
"This is a badge of honor for the hackers. It's like being able to race up and spray paint the bullet train in Japan as its moving. It's being driven by design pride and not the economic gain," Doherty explained. "Trying to fight that type of guerilla warfare has never worked."