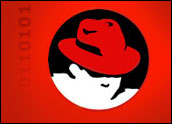 Shares of Red Hat plunged 23 percent Wednesday after the maker of Linux software said its second quarter profit fell on stock options costs. The company also cut its cash-flow forecast for the rest of the year.
Red Hat said profits in the second quarter were down more than 32 percent, largely due to the impact of accounting for stock options as expenses.
Linux Popularity Increases
Profits for the quarter that ended in August were US$12 million, compared to $18.1 million for the same time last year. Revenues were up some 52 percent, however, and exceeded expectations, rising to $99.7 million from $65.7 million in the same quarter a year ago. It was the 18th straight quarter that Red Hat posted revenue gains as Linux continues to gain a foothold in enterprise settings around the world.
While stock options costs were the culprit in the second quarter, Red Hat said other expenses, including costs associated with its purchase and integration of rival JBoss, would keep it from meeting cash-flow targets for the full year.
"The second quarter was one of intense focus on integrating our recent acquisitions in Argentina, Brazil, India and, of course, JBoss," said CFO Charlie Peters. "We expect operating results and cash flow will improve in the second half of fiscal 2007 since much of the heavy integration work is behind us already."
By midday Wednesday, Red Hat shares were trading at $20.42, down 22 percent on the day. The stock has traded above $30 as recently as June of this year.
Still Growing
The reaction of investors was likely tied to the apparent difficulties in smoothly integrating the JBoss buy. Acquisitions can be a stumbling block for many companies and can prove particularly vexing for software vendors, which must decide whether and how to integrate their products with those of their acquisition target.
Peters said the company believed most of the heavy integration work was done in the second quarter. "We are pleased with the pace and progress of our integration work, and believe that results in subsequent quarters will benefit from the investments in employee time and expense in the quarter," he added.
Red Hat remains on a strong growth trajectory and is rolling out new products that the company believes will keep sales strong for the foreseeable future. Peters said the introduction of the Red Hat Application Stack, which combines various products into a single suite of Linux compatible products, will help drive sales.
Still, two analysts downgraded Red Hat shares after the report, citing the cash-flow issues that could hamper the company's ability to hit profit targets for the rest of 2006 and into 2007.
The Leader — for Now
Red Hat said its cash flow situation was also feeling the impact of a shift in its licensing deals to include more three-year subscriptions. Red Hat can only immediately recognize the first year of revenue from those deals.
Some observers believe it is only a matter of time before major tech companies such as Oracle make aggressive moves to grab Red Hat's market share away. Oracle CEO Larry Ellison said earlier this year his company would be mulling various Linux-related moves. Given Oracle's history, a splashy acquisition in the space would not seem out of the question, but to date, it has remained on the sidelines.
"Threats to Red Hat's momentum are looming," Gartner analyst George Weiss said, but for now, it has a window in which it can build market share and customer loyalty.
Still, Weiss said the decision to attempt to integrate JBoss' server platform with Red Hat's applications is itself fraught with challenges. "It's not a simple integration," he noted.
Investors and analysts may be concerned that the switch is going to be costlier and more of a distraction than previously believed. Red Hat bought JBoss in June for around $350 million.
Because of the overhanging questions about the merger, "Investors will likely view Red Hat as a 'show-me' story going forward," said Jefferies & Co. analyst Katherine Egbert.