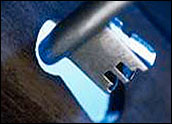 If you told Rhett Frandsen 10 years ago he'd end up being a professional widget-maker, he probably would have called you crazy.
"Back then, widgets were only something you read about in your economics book," Frandsen laughed. "Until Apple coined the phrase, everybody had sort of agreed upon the fact that it wasn't anything."
Webster's still agrees: Look up "widget" and you'll find "an unnamed article considered for purposes of hypothetical example." Within the Web-savvy world, of course, the word has taken on new meaning — and that meaning has taken on a large role in Frandsen's life.
Frandsen — the director of business development for MediaForge — is helping usher in a new era of widget-based advertising. He and his team members have married the idea of the modern graphical interface with the old-fashioned banner ad to create what they call a "next-generation loyalty solution."
"What the widget looks like is sort of a mini-version of the brand's Web site," MediaForge CEO Tony Zito told the E-Commerce Times. "Viewers of the widget ad can actually search and browse right within the ad itself."
MediaForge may not be the only company dabbling in the idea — competitors like Tailgate started playing with the notion of transactional banners back in 2007 — but the folks steering this ship are confident they're doing something different.
A Simple Start
The MediaForge concept came from a simple start. The company was building regular ol' widgets — without the advertising angle — when one day, a metaphorical light bulb suddenly went off.
"We realized that every one of our clients was asking for assistance in distribution of the widgets," Zito remembered. "We realized very quickly that what we were building [to operate] in the social media environment and the rich media advertisements that companies were running really weren't that far away from each other — just one was more dynamic and more interesting."
With that realization, the MediaForge team set out to find a niche. One way it tried to set itself apart was by starting to pull actual site content into an ad-sized space — hopefully creating a jam-packed box that visitors would actually want to use.
"If a company has XML or Google-based feeds, we can integrate those in — and that's fairly unique in our space," Zito said. "If they don't have data feeds, we write custom Web services that actually go out to their Web site and pull the data in in real-time. It enables the viewer to get the absolute most current data from the brand."
Lessons in Loyalty
The goal of the whole operation is to build loyalty. Users can opt to install any of the widgets on their own desktop or embed them within a social network or iGoogle-style site.
"The byproduct … is a one-to-one relationship the brand has now created with the user," Zito suggested.
That relationship, Frandsen said, can be built with any company — whether it's a major corporation or a two-person startup.
"Every brand, regardless of how big or small, has some community of loyal proponents. The opportunity for a brand to extend its messaging and its content into social networking properties is really endless — because as long as you make those tools available to those loyal proponents, they're more than willing to raise their hand … and endorse you in those social settings," he explained.
MediaForge has seen a decent amount of success, too, with high-profile campaigns like Nordstrom, Skullcandy and American Idol — which used a social media widget to promote its "Singers Advantage" vocal lesson videos. Even Tila Tequila took a shot at luck with video widgetry (her campaign, incidentally, snagged a record amount of traffic for MediaForge — and a fair share of booty shaking, too).
"The relevancy and newness of content — especially video content — has been tremendously popular for social media penetration," Frandsen told the E-Commerce Times. "The opportunities really self-perpetuate."
Importance of Innovation
The sort of innovation agencies like MediaForge are creating may be just what advertisers are craving. While dollars spent on widget-oriented campaigns still account for only a small slice of the advertising pie, the ideas are starting to make an impact.
"The idea of incorporating widget functionality into an ad format that marketers are already familiar with is pretty compelling," eMarketer Senior Analyst Debra Aho Williamson told the E-Commerce Times. "I think [companies] are very comfortable with forms of advertising they've seen … but they're also recognizing that plain old banners aren't attracting very much attention."
The idea of interaction, Williamson said, is definitely working in the widget's favor.
"Marketers are interested in interacting with consumers and engaging consumers. I think that's one thing that'll move the market forward and will get companies really interested to see what they can do," she speculated.
Naturally, the idea of a branded message going viral is appealing to any advertiser. Figuring out how to reliably make that happen, however, may be the next big challenge.
"Things don't go viral by themselves," Williamson pointed out.
MediaForge certainly seems up to the challenge. Guys like Rhett Frandsen and Tony Zito are set on making the widget a household word — or at least a desktop regular. For now, though, when it comes to small talk with strangers, they'll just have to deal with dishing out the extra explanation.
"It's difficult. I was golfing this morning, and these two gentlemen asked me [what I did]," Frandsen said. "I always reference the Web 2.0 trend: It's about letting people take something you have to offer with them, wherever they want to spend time online. It's a portable piece of something you enjoy."