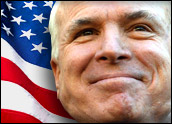 Sen. John McCain, R-Ariz., has introduced the Internet Freedom Act of 2009, legislation that would negate many of the principles underlying the concept of Net neutrality, which aims to ensure that Internet users have equal and unfettered access to all services available on the Web.
The McCain bill calls for continued unfettered competition for Internet activity, with exceptions carved out for homeland security. Its introduction follows a vote by the Federal Communications Commission on Thursday to begin developing rules that would codify earlier guidance on Net neutrality.
The two-page notice the FCC issued is the focal point for an initial public comment period that will last until January 14, 2010, when the first round of comments are due to be filed. Replies to those comments must be submitted by March 5, 2010.
'No Chance in Hell'
Proponents of Net neutrality also have offered bills in Congress, noted T. Barton Carter, a law professor at Boston University.
Whatever regulations the FCC might impose could be altered through the legislative process.
"Congress could change something that the FCC did that it didn't like," Carter told the E-Commerce Times, since the FCC's authority is bestowed by the legislative branch.
However, it is unlikely McCain's bill will go anywhere, said Frost & Sullivan Program Manager Mike Judd.
"It doesn't stand a chance in hell in fact," he told the E-Commerce Times. "It is a political statement. McCain is saying that Net neutrality is a bad thing, and he wants to go on record with that opinion."
Even if such a bill were to pass the House and Senate, Judd noted, the Obama administration came into office "drawing a line in the sand about Net neutrality. It is an important issue to the president."
Open Language
Based on the content of the FCC's Thursday notice, it appears McCain's bill might be overreaching. Some of the language of the principles outlined in the document appears to have been designed specifically to mollify opponents of Net neutrality.
For example, FCC Chairman Julius Genachowski calls for flexibility in allowing broadband providers to manage their networks, and he suggests limiting the government to a "modest" role in preserving openness.
"The goal is to provide a fair framework in which all participants in the Internet ecosystem can operate, ultimately minimizing the need for government involvement," he says.
The rules' application may be different for wireless and wireline providers, he suggests — a position that the wireless industry has been fiercely advocating.
Other principles outlined in the notice include preserving a free and open Internet, and promoting both investment and innovation. It also emphasizes the need for secure and transparent network management practices.Just Politics?What the FCC's eventual rules will look like is anyone's guess — but some industry observers warn against reading too much into the notice's conciliatory language.
"It is clear that three of the commissioners are looking to craft strong rules," Carter said. Those three are the commissioners appointed by Democrats. There are also two Republican commissioners; a majority vote is required to establish a rule.
"Right now, the FCC is seeking public comment," Carter said, and "this is just an opening for that." The FCC may have adopted a softer tone toward the opposition because it "didn't want to make it look like a train was ramming through."
The Commission has taken unusual pains to acknowledge that it recognizes there are legitimate reasons for providers to manage their networks, Judd said.
How its accommodating language will be received by disgruntled telco players remains to be seen — although Judd isn't expecting much enthusiasm.
"They understand new rules represent a new overhead associated with their business," he commented.
There are legitimate concerns for Net neutrality, Judd added, "but most industry believes that whenever rules are expanded, it cannot be a good thing."