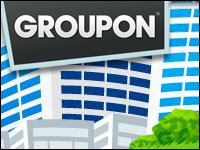 A day after posting disappointing quarterly earnings, Groupon ousted its founder and CEO Andrew Mason. The company's stock jumped 4 percent in after-hours trading as the news became public.
"I've decided that I'd like to spend more time with my family. Just kidding — I was fired today. If you're wondering why… you haven't been paying attention," Mason said in a letter to employees. He expressed regret that he didn't follow his intuition at certain times.
(This is for Groupon employees, but I'm posting it publicly since it will leak anyway)
People of Groupon,
After four and a half intense and wonderful years as CEO of Groupon, I've decided that I'd like to spend more time with my family. Just kidding — I was fired today. If you're wondering why… you haven't been paying attention. From controversial metrics in our S1 to our material weakness to two quarters of missing our own expectations and a stock price that's hovering around one quarter of our listing price, the events of the last year and a half speak for themselves. As CEO, I am accountable.
You are doing amazing things at Groupon, and you deserve the outside world to give you a second chance. I'm getting in the way of that. A fresh CEO earns you that chance. The board is aligned behind the strategy we've shared over the last few months, and I've never seen you working together more effectively as a global company — it's time to give Groupon a relief valve from the public noise.
For those who are concerned about me, please don't be — I love Groupon, and I'm terribly proud of what we've created. I'm OK with having failed at this part of the journey. If Groupon was Battletoads, it would be like I made it all the way to the Terra Tubes without dying on my first ever play through. I am so lucky to have had the opportunity to take the company this far with all of you. I'll now take some time to decompress (FYI I'm looking for a good fat camp to lose my Groupon 40, if anyone has a suggestion), and then maybe I'll figure out how to channel this experience into something productive.
If there's one piece of wisdom that this simple pilgrim would like to impart upon you: have the courage to start with the customer. My biggest regrets are the moments that I let a lack of data override my intuition on what's best for our customers. This leadership change gives you some breathing room to break bad habits and deliver sustainable customer happiness — don't waste the opportunity!
I will miss you terribly.
Love,
Andrew
All in all, it was a class act, Rob Enderle, principal with the Enderle Group, told the E-Commerce Times. "Mason has set the bar of leaving a company elegantly and gracefully very high now. That was incredibly well done."
His forced departure is not surprising at all, said Enderle. "Simply put, they were not hitting the numbers. It was time for a change."
Groupon will be run by Executive Chairman Eric Lefkofsky and Vice Chairman Ted Leonsis until a new CEO can be found.
"On behalf of the entire Groupon board, I want to thank Andrew for his leadership, his creativity and his deep loyalty to Groupon. As a founder, Andrew helped invent the daily deals space, leading Groupon to become one of the fastest-growing companies in history," said Lefkofsky.
Stormy Weather
Groupon released its quarterly earnings on Wednesday, reporting revenue of US$638.3 million, a 30 percent increase from $492.2 million in the year-ago period. However, the company forecast first-quarter revenue of $560-$610 million — far short of the $650 million that analysts had been expecting.
Groupon's stock dropped some 26 percent in the aftermath of the earnings release.
The report was just one of a long line of disappointments for the company's investors. Its original model — once considered a brilliant concept — quickly attracted many competitors but then lost its luster.
Groupon's IPO of $20 per share is now a distant memory. To make matters worse, the company has received inquiries from the Securities and Exchange Commission over its accounting practices.
As it struggled to right itself, Groupon tried new products and strategies, with limited success. Its mobile push, for instance, has been disappointing. It released a particularly disappointing third-quarter earnings report last November, and it was around then rumors first surfaced that Mason might have to go.
Ray of Light
Despite its troubled history, all hope is not lost for Groupon — there are still some reasons to believe it might turn itself around.
Over the past several months, it began shifting to a lower-margin — potentially more sustainable — business model. It launched Groupon Goods and debuted a credit card payment-processing service.
It's positioning itself to become a shopping resource for consumers and merchants, as opposed to a daily deal delivery service, Peter Krasilovsky, an analyst with BIA/Kelsey told the E-Commerce Times.
"It is de-emphasizing the expensive local sales channel that Groupon first developed, allowing it to concentrate on making impressive deals with national providers," he said.
It is not that Groupon is struggling to find growth.
"As Mason said, it is showing strong year-over-year growth of 30 percent — but its expenses are unsustainably high, which is another reason why the market is down on the stock," Krasilovsky pointed out.
"Groupon has done everything that it is supposed to do," he said. "I am not writing Groupon off at all. It has a very large base of users and merchants."
The real question is whether Groupon can make the shift to profitable margins.
"It is not about revenue for them, but costs," Krasilovsky said.
The Goods on Groupon Goods
Groupon Goods is a marketplace in which Groupon features "great deals on some of today's most innovative" products.
Unfortunately, consumers don't understand Groupon Goods the way they understand daily deals, said Barry Randall, who runs the Crabtree Technology Model for Covestor. "Everybody knows what a Groupon is. Relatively few people know what's available on Groupon Goods."
The company appears to be having more trouble than it expected in explaining Groupon Goods to consumers, and the effort is costing more marketing dollars, he told the E-Commerce Times.
Then there is the competitive landscape, dominated by the massive Amazon — "a company that is content to operate with mere 2 percent operating profit margins, while bringing huge economies of scale that Groupon can never match," Randall said.
In short, while Groupon Goods might be the company's salvation in the long run, it is in part responsible for its present financial problems. Groupon Goods was one of the root reasons behind its Q4 losses, Randall noted.
Another theory is that Groupon is competing against too many online providers that deliver cheap goods and great deals, Scott Rothbort, president of LakeView Asset Management, told the E-Commerce Times.
"Unfortunately for Groupon, the Internet is flooded with all sorts of online discounts and coupons," he observed. "There is no special proprietary or competitive advantage that Groupon has which is getting investors excited."