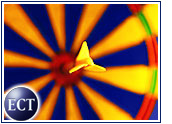 Despite the dominance of major players in the e-tail world, small, narrowly focused shopping sites still have a place in cyberspace, according to analysts.
"[Niche sites] are not going to compete against Amazon, but they can stay in business," Forrester Research analyst Christopher Kelley told the E-Commerce Times, noting also that Amazon (Nasdaq: AMZN) has embraced niche e-tailers through its zShops mall.
The smaller businesses that have the best shot of succeeding online, according to Kelley and other experts, are those that can build brand awareness and offer goods that buyers are not able to find anyplace else, such as rare books and antiques.
As an example, Kelley pointed to The Construction Site, a Waltham, Massachusetts toy store specializing in construction toys.
Kelley said that The Construction Site has been able to attract not only local patrons, but also e-shoppers from outside its area who could not find elsewhere the specific toys they wanted.
No Mall Zone
However, according to Gartner research director David Schehr, small Internet merchants should remember that shopping online is not like shopping in the brick-and-mortar world, because few consumers buy more than a couple of items online each quarter.
"Most people aren't going 'malling' on the Internet," Schehr said.
Instead, most people log on to an e-tailer's site with a specific product in mind and not to browse the e-tailer's inventory, he said.
Tune That Name
With all the new dot-coms that have sprung up in the last few years, making a name known to consumers is especially important for a niche site, according to Schehr.
Yankee Group research director Kevin Noonan said that one reason Amazon is so successful is because it established an online presence as one of the first e-tailers.
Schehr added that the most common ways consumers find smaller e-tailers are through online search engines or by typing in the company's name followed by a dot-com.
Other ways include finding the niche site through a portal mall, such as Amazon's zShops or Yahoo! Shopping. For example, Varna, Illinois-based Gourmetreats.com has been able to expand its national presence by maintaining a store on Amazon's zShops.
Trust in E
Beyond branding, another challenge for niche sites is establish a name that consumers feel they can trust.
Because the dot-com downturn has shaken some consumer faith in Internet shopping, local retailers hoping to win distant customers via the Web need to offer reassurance that they are not fly-by-night operations, analysts said.
Kelley said that retailers can reassure Web customers by pointing out how long they have been serving their local community and offering a toll-free customer service number.
Credit Card Chaos
Niche sites must also be wary of the fact that shoppers making multiple purchases are inclined to shop at an Internet superstore, because, as Noonan said, "most people would rather give their credit card (only) once online."
At the same time, however, Noonan added that some customers are more comfortable giving their credit-card number to a niche Web store than to an online superstore owned by a consortium, because they do not want to have their mailboxes stuffed with solicitations from members of the consortium or from companies the superstore rents its list to.
Noonan noted that some online companies derive as much as 50 percent of their revenue from renting out their customer lists.
As Always, Brick
One final caveat for niche stores is that those with brick-and-mortar affiliations are controling more and more of the available e-tail space.
"A new site without a brick-and-mortar (counterpart) will find it very hard to compete" in cyberspace, Noonan said. He said brick-and-mortar retailers establishing an online channel had a much better chance of e-tail success than Internet pure plays.
Brick-and-mortar retailers who move online are able to convert current customers to e-shoppers, and they also have the opportunity to gain customers from outside of their local shopping area.