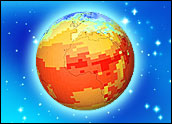 Rock concerts for causes took off in the 1970s, with the Concert for Bangladesh, No Nukes, LiveAid and FarmAid electrifying audiences worldwide. However, Live Earth, a series of concerts beginning on July 7 aimed at combating climate change, will go them one better. With the advent of the Internet and time-shifting television technologies, viewers won't have to be glued to their sets in order to catch the show.
Such events help to raise awareness for the causes they advocate, saysShel Horowitz, author of Principled Profit: Marketing that Puts People First. "Participants [have] to take the extra step to educate themselves afterward, but I do think these concerts can definitely have an impact — plus, the music is great."
Live Earth concerts will be held in New York, London, Sydney, Tokyo, Shanghai, Rio de Janeiro, Johannesburg and Hamburg featuring the Police, Genesis, Bon Jovi, Madonna, Kanye West, Kelly Clarkson, Black Eyed Peas and Jack Johnson, among others. Also lending his considerable street cred to the event is former vice president Al Gore.
A First
Live Earth's harnessing of star power to bring attention to a particular problem is hardly unique. It is the first such event to harness Web 2.0 technology on a grand scale, though.
The Internet and TiVo have altered the concept of real time and will definitely increase Live Earth's global exposure, Horowitz predicts.
Quantifying Time Shifting
Measuring the concert's impact won't be easy. Even environmentalists cannot help but point out the disconnect between the medium and message. "The cynical side of me does wonder how many tons of carbon the Live Earth events will add to the atmosphere," Horowitz tells the E-Commerce Times.
"Those who hope these concerts will do for the global warming movement what the music of the 1960s did for the civil rights and antiwar movements are bound to be disappointed," says Marlo Lewis Jr., a Senior Fellow at the Competitive Enterprise Institute.
"Sixties music was true folk art — the driving force of a cultural tidal wave. No politician can replicate that by organizing a concert series," he tells the E-Commerce Times.
Absent are any global-warming counterparts to "The Times They Are A-Changing," "If I Had a Hammer" or "Come Together," he laments. "There's a big difference between getting popular bands to perform hit songs in the name of global warming and producing hit songs about global warming."
The involvement of the Internet will mean the event will reach more of an audience than otherwise, Lewis concedes, "but that is just the times — it is unthinkable such an event would go without some kind of Internet presence."
Time-Shifting Payoff
Others argue that the 24-7 nature of the concert — and, more importantly, its good-citizen goals — will have an unprecedented effect.
"Music is a very powerful means of communication," notes Imal Wagner, founder of Phoenix Rising PR. "It is a forum for emotional reactions to the inner world and outer realities of society."
Live Earth, she predicts, will be a harmonizing event, with cultures and traditions throughout the world accessible via satellite TV and streaming video on the Net.
"What that means is millions upon millions experiencing the same sound and messages," Wagner tells the E-Commerce Times.
Even if the event just triggers a wave of dialogue and media coverage, she adds, "that is still huge."