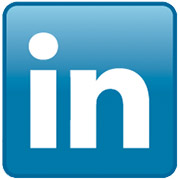 LinkedIn on Wednesday announced three new mobile apps designed to increase users' productivity and mobile reach.
First and foremost, LinkedIn Intro is a brand-new mobile app for iPhone Mail that gives users a preview of the credentials of people who send them email from popular email accounts. With support for Gmail, Google Apps, Yahoo! Mail, AOL Mail and iCloud, the app essentially embeds users' LinkedIn profiles into the emails they send.
Without Intro, emails provide little information about the sender. With Intro, the user sees the sender's image and credentials, helping to establish the context for the communication right away.
Beyond the 9-to-5
A new iPad app, meanwhile, has been rebuilt from the ground up with a new design and new functionality such as search, jobs, channels and influencers. There are also new personalization capabilities so users can tweak the app to emphasize, say, influencer content over jobs, depending on their needs.
Then there's the LinkedIn Pulse app — based on the popular eponymous news service that LinkedIn acquired for US$90 million — which has relaunched with such new personalization and productivity features.
Taken together, the new apps — along with two more that LinkedIn introduced last week — highlight LinkedIn's stated goal of supporting professionals 24/7.
"Traditional boundaries of career and work have evolved," explained Deep Nishar, senior vice president of products and user experience for the company. "Managing your professional brand is no longer a confined experience inside the office or bound to a set schedule."
A LinkedIn spokesperson was not immediately available to provide further details.
'An Added Level of Credibility'
There is a lot for LinkedIn fans to like about these apps, Sarah Carter, general manager of social business at Actiance, told the E-Commerce Times.
For one, they are integrated, she pointed out.
In the mobile environment, integrated social apps "remove the barrier of closing and opening different apps for different purposes," Carter explained. "Individuals can complete mobile tasks in the efficient manner they desire, with the insights of their social networks built in naturally."
The apps also fulfill distinct needs for professionals on the go, Lindsay Howard, social engagement manager with Engauge, told the E-Commerce Times.
"Intro enables an added level of 'credibility' when forming new connections that email may not provide," she said.
For example, "recruiters may use email to reach out to new connections because using InMail through LinkedIn comes at a cost," Howard noted. "Now, recruiters may consider using LinkedIn instead because the in-mail profile makes it easier for the recipient — the recruit — to determine the sender's — the recruiter's — credibility."
It's not perfect, though, she added.
Intro must be downloaded by users to be enabled, Howard noted: "This creates a barrier because senders will not know whether recipients have enabled the feature, and it delays adoption."
'Feature-Lean Mobile Products'
Competitors, meanwhile, are surely watching and plotting to make sure their offerings are as distinct as possible from LinkedIn's brand.
TheLadders' mobile app, for instance, is geared to reducing the signal-to-noise ratio for recruiters and job seekers, Selena Hadzibabic, director of product for the site, told the E-Commerce Times.
"Instead of leveraging a traditional search function, which can generate hundreds of irrelevant results for job seekers and recruiters alike, TheLadders' mobile app customizes job matches based on members' past experiences and career aspirations," she said.
Another differentiator, Hadzibabic added, is that TheLadders builds "feature-lean mobile products" aimed at the short windows of time busy professionals typically have.
"Completing a 20-page application process or filling in form fields has purposely been avoided," she explained. "Instead, we collect lightweight information to deliver job seekers relevant jobs wherever they are."