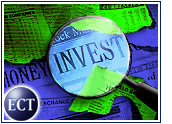 Viant Corp. (Nasdaq: VIAN) fell 1/8 to 41/8 Thursday after the company became the latest Internet consultant toannounce layoffs and a restructuring to combat an industry slump.
The Boston, Massachusetts-based consulting company said it will lay off 125 employees,taking a fourth-quarter charge of US$5 million to $7 million, and refocus itsresources on a few key markets.
Viant said it will close its Dallas, Texas office, and make other "selectedworkforce reductions company-wide."
The firm said it will concentrate on such markets as media, financialservices, consumer and retail, and technology in order to "better alignViant's professional expertise with client requirements."
The restructuring will save about $18 million in 2001, said the company,adding that it expects to have cash of about $185 million on hand at the endof this year.
Goldman Sachs reportedly downgraded Viant shares to market perform frommarket outperform following the announcement.
Viant's warning came one day after competitor Scient(Nasdaq: SCNT) also said an industry-wide slowdown will hurt resultsin the current quarter. Scient, based in San Francisco, California, willeliminate about 460 jobs and close its offices in Silicon Valley inCalifornia, and Austin, Texas.
In the third quarter, Viant reported a net loss of $1.1 million, or 2 centsper share, compared with net income of $1.6 million, or 3 cents, in theyear-earlier quarter. Revenue was $33.1 million, up 76 percent from a yearearlier but down from $38.1 million in the preceding quarter.
Viant shares are down from a 52-week high of 63 9/16.